March 2009 -
The Microscope and the Telescope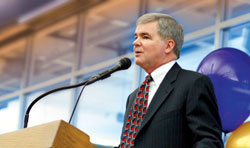 Photo courtesy of UW Marketing
From the flood of news headlines announcing job cuts to the soaring number of foreclosures, signs of the ailing economy can be seen all around us. At the University of Washington campus in Seattle, though, perhaps the most telling, if not the most painful, sign of the economic downturn is something you won't see this spring: new students.
Already overenrolled by about 1,100 students—largely because people stay in school longer during tough economic times—the University froze enrollments for the spring quarter. More than 300 students who would have been accepted under normal circumstances were denied admission. The decision to freeze enrollments was extremely difficult, but necessary. With no state funding for the extra 1,100 students that we already have, we are under intense pressure to provide the classes and services students need to graduate.
The pressure on enrollments comes at the worst possible time. Demand for higher education is at its peak, and an educated workforce has never been more important to our state's economic future. As you are probably aware, the state of Washington faces historic fiscal challenges in the upcoming biennium. Our leaders in state government have the unenviable task of crafting a budget that accounts for a huge revenue shortfall.
The effects of the budget crunch have already been felt at the UW, and they will be felt even more deeply in the future. Last fall, the governor directed us to reduce our budget for the current fiscal year by 4.25 percent, or $17 million. Beyond that, the governor's proposal for the 2009–2011 biennium contains a reduction of 13 percent, or about $116 million.
At this point, the governor's proposal is just that—a proposal. The legislative process is still under way, and we do not yet know what our final budget will be. But we do know that significant cuts will be necessary, and that making them will be neither simple nor painless. Everything is going under the microscope, so to speak, as we examine all aspects of our operations, looking for new and innovative ways to reduce costs and increase revenues.
The microscope view is a natural one to take as we look for potential cuts, but it is critical that it not be our only perspective. We must also use the perspective of the telescope in our decision-making. Our goal is not simply to get through the next couple of years; it's to put our University and the state of Washington in a strong position for the long term.
As we approach every decision, we have to think, how does this impact our ability to be a great university, not just now but for decades to come? In the midst of this economic turmoil, there will also be great opportunities, and we must be willing and able to grasp those that will advance the UW and allow us to even better serve our state and nation.
We owe it to future generations of Huskies to ensure that they inherit a great university. By using the perspectives of both a microscope and a telescope to make our decisions during these difficult times, we're doing just that.


Mark A. Emmert, '75, President