March 2009 -
Reap the Benefits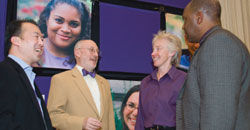 Chuck Blumenfeld meets alumni and faculty
volunteers at a Career Services event.
Photographed on Jan. 15, 2009 by Karen Orders.

Spring has always been one of my favorite seasons on campus. This year will be no exception, even in these very interesting times. I reflect on the fact that I continue to be awed by the wonderful things our UW alumni community is accomplishing locally and across the globe. I hope that you see how the work of the Alumni Association continues to support alumni, students and friends of the University in significant ways.

From our Career Services program, where fellow Huskies can give you a boost on your professional path, to events like the Dawg Days in the Desert gathering that's coming up this month in Palm Springs, your UW Alumni Association provides you with opportunities to enhance your life, have some fun and keep connected to the University.

I've asked the team here at the association to continue to expand the ways in which you can access the great resources of all three UW campuses. Whether it's your member discount at the University Book Store, or a chance to meet our new football coach Steve Sarkisian at the upcoming Coaches Tour, or opportunities to learn from our best professors on UW Alumni Tours travel adventures, we hope you take full advantage of all that the University and its Alumni Association have to offer.

While some might argue that today's economic atmosphere is not the time to invest in a UWAA membership or your University, I would say it's actually the best time to be a member. For only $50 a year, you can gain access to such a wide range of services and benefits that your membership will more than pay for itself.

In other words, you are getting value for your money. And in times like these, that is more important than ever. You know the value of your UW education. We invite you to enhance that value by joining the UWAA and reaping all the benefits you're entitled to as a member of the Husky alumni community.


Chuck Blumenfeld, '66, '69
Executive Director, UW Alumni Association