Spring Lectures Include Nobel Laureate Ebadi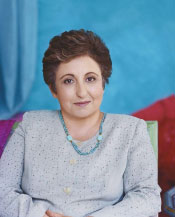 Photo by Jerry Scales
After Shirin Ebadi received the Nobel Peace Prize in 2003, the death threats against her increased thirtyfold. "Anyone who fights for human rights in Iran lives in fear," she told a reporter at the time. "But I have learnt to overcome my fear." A lawyer and activist, Ebadi has spent her life pursuing legal reform and the expansion of human rights, and particularly women's rights, in Iran. On May 19, she will discuss her work and vision in the annual Jessie and John Danz Lecture, "Iran Awakening: A Story of Revolution and Hope." Produced in partnership with Seattle Arts and Lectures, it's part of an outstanding lineup of lectures offered this spring by the UWAA. Others include:
The Evans School of Public Affairs Leadership at the Crossroads Speaker Series, "Corruption in Business and Government," featuring Patrick Fitzgerald, the high-profile U.S. Attorney for the Northern District of Illinois, whose office has been investigating the corruption case of impeached Illinois Gov. Rod Blagojevich.
The College of Built Environments Lecture Series, featuring lectures on beauty in sustainable landscape design; building environments that are conducive to healthy living; and the mission of Auburn University's unique Rural Studio.
The Foster School of Business series, "Fostering Innovation 2009: Leaders Who Think Differently and Make a Difference," featuring Melissa Waggener Zorkin, CEO, president and founder of the public relations firm Waggener Edstrom Worldwide; and Mike Davidson, founder and CEO of Newsvine.com.
The Office of Minority Affairs and Diversity Samuel E. Kelly Distinguished Faculty Lecture.
The Program on the Environment Lecture Series, "Coffee: From the Grounds Up-Sustainability from Crop to Cup," featuring lectures on coffee and fair trade, coffee as an ecosystem, caffeine and psychology, and more.
The School of Pharmacy Katterman Memorial Lecture, "Keeping Up, Staying Ahead: Discussions in Pharmacy Practice," featuring a panel of UW faculty experts.
The UW Libraries Blom Lecture, "On American Soil," featuring Jack Hamann, author of On American Soil: How Justice Became a Casualty of WWII.
For more information about these and other UWAA lectures, and to register: UWalum.com/events