March 2009 -
Ken Barron, '03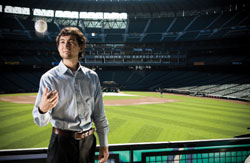 Ken Barron, photographed Sept. 12, 2008
at Safeco Field by Karen Orders.

Seattle native Ken Barron, '03, spent his middle-school years living in Japan, where baseball was big and his favorite player was Orix BlueWave superstar Ichiro Suzuki. After returning to the States, Barron baffled his Roosevelt High School classmates by carrying a school folder featuring a picture of his boyhood hero.

"Nobody else knew who he was," Barron recalls.

Fast forward to today. The bilingual Barron is beginning his fourth season with the Seattle Mariners, where he handles media interviews for Japanese stars Kenji Johjima and, you guessed it, Ichiro Suzuki.

That's right, Barron now works side-by-side with his childhood idol. Too good to be true?

Hai. (Yes.)

"It's surreal to think that the guy on that picture is now a person in front of me," says Barron, 26. "My friends were always like, 'Man, wouldn't it be crazy if you were an interpreter some day?' I never thought that would happen."

Barron fell in love with the Mariners while still in Japan and attended his first Mariners game in 1991 after his family moved back to Seattle. Upon graduating from the UW with a degree in international business, he walked straight into the Mariners Team Store one afternoon, looking for work.

Barron's passion for baseball earned him a spot on the events team. But shortly after that he was called up by the National Guard and sent to Iraq for a year. After he came home, Barron worked at Amazon.com for a few months before catching his big break­­—albeit out of the blue.

Barron called his old boss with the Mariners—a Gonzaga grad—to talk a little smack prior to a UW–Gonzaga men's basketball game. "He said, 'How'd you know I was trying to call you? The old interpreter just left and I'm recommending you.' I said, 'What?!' It was crazy, but I did well enough in the interview that I was able to get the job."

Now, this lifelong baseball fan calls Safeco Field his office.

"It's an incredible experience to work with people, professionals, who are the best in the world at what they do," Barron says. "Not just Ichiro, but all the players on the team. Learning about their integrity and their work ethic and what it takes to be the best, it's a priceless experience for me."

Barron says Ichiro, an international superstar and a legend in Japan, isn't nearly as staid as the media makes him out to be.

"On the field, everybody knows this serious guy. But off the field, when he turns the switch off, he's a super funny guy and a super kind guy. And I'm very grateful that he can express that side of himself to me. It's a lot of fun."

At the same time, Ichiro is known for his flashy sense of fashion­—he once wore a tight pink shirt, trendy jeans and colorful designer sneakers to a spring-training interview—and his off-the-cuff quotes, including a reference to "mental signals" he sends to fly balls. But that's all part of what makes Barron's job so much fun. With Ichiro, you never know what you're going to get.

"I think many people in Japan consider him a genius," Barron says, "not only because of his hitting but because of his philosophy. What he says is unique, and unless you really get to know him I think he is definitely a hard guy to translate. But for me, that is my favorite thing to do."