Page 1 of 4
Too many players, fans and coaches have underestimated Brandon Roy in the past, but this NBA all-star continues to show them that's a costly mistake.
Brandon Roy still refers to the play, only half-jokingly, as "the highlight of my career." It was the 2000 Washington State Basketball Tournament, and he had come off the bench for Garfield High School in its quarter-final round game against Mountlake Terrace. A gawky, untested sophomore, he quickly found himself face-to-face with the most notorious shot-blocker in the state—Seamus Boxley, a 6-foot, 7-inch senior bound for an NCAA Division-I team. Roy sized up his opponent, drove baseline, leapt into the air and dunked on Boxley with both hands.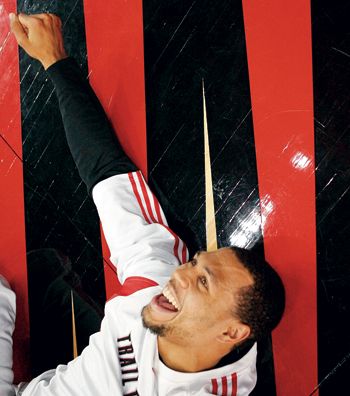 "I couldn't even sleep that night, I was so happy about that," Roy recalls. "I think I only had, like, four points, but that dunk felt like 20."

It may surprise fans of the mature Brandon Roy—who favors a slow-paced offense and likes to wear down flashier opponents with grit, finesse and grace under pressure—to learn that he was once known mainly for his 42-inch vertical leap. "Brandon could jump higher than any other person I've ever seen on the floor," says Cole Allen, Roy's best friend since high school. He remembers the day after the 2000 NBA Slam Dunk Contest. "Brandon was in the gym during lunchtime, duplicating those dunks in front of the whole school."

In the years since, Roy has battled knee and ankle injuries, 7-foot centers, and his share of lousy luck, and has learned that some obstacles simply can't be jumped over. But he has also proven extraordinarily skillful at finding other paths to the goal—whether in basketball, in the classroom, or in the world beyond. Indeed, if one sports cliché—"he can jump out of the gym"—no longer applies to Roy, another seems more appropriate every day: when it comes to potential, the man has no ceiling.

That's a good thing, because at this point expectations are through the roof. As co-captain of the Portland Trail Blazers and reigning NBA Rookie of the Year, Roy is expected to put up big numbers every night, make everyone around him better, and help rehabilitate a troubled franchise.

It would seem like too much to ask of a second-year combo guard—if Roy weren't doing it. With his indomitable game, he is leading the Blazers out of the cellar and into the playoffs. With his charisma and, possibly, clean-cut image, he is helping a city jaded by years of the "Jail Blazers" care about its only major-league sports team again. And with his work in the community, including service as a spokesperson for the UW's Students First scholarship program (see "One More Assist"), he is using his newfound celebrity to make something even more important than big money—a big difference.
Like Bob Hope, who had six brothers and famously joked that he learned to dance "waiting for the bathroom," Brandon Roy found out about sharing at an early age, growing up in a small West Seattle duplex with five other family members. His father, Tony Roy, drove a Metro bus for a living; his mother, Gina, worked in a grade school cafeteria. There was an abundance of love in the Roy home, but not much elbow room, and Brandon has attributed the unselfishness for which he's known on the court to his upbringing in a family that was close in both senses. "I always felt I had to put my own selfish things aside," he told the Seattle Times, "so my brother could have more, my sister could have more."

For many years, that included yielding the spotlight. As an adolescent, Brandon Roy was known mainly as Ed Roy's little brother. Two years Brandon's senior and a standout in both football and basketball, Ed Roy cast a long shadow at Garfield. Brandon, meanwhile, was undersized and quiet. He didn't start to see serious playing time in varsity games until the second half of his sophomore year, and didn't really catch the eye of Coach Wayne Floyd until the day he dunked on Seamus Boxley.