Huskies for a Weekend, and a Lifetime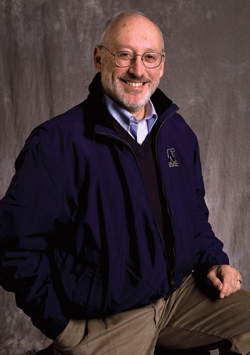 One of the UW Alumni Association's most important roles is that of steward of the Husky Community. And though the alumni association puts on many events that bring alumni back to campus and keep UW graduates, students, faculty and staff connected, Washington Weekend stands out in my mind as one of the best.

At the Fourth Annual Washington Weekend—which runs April 24–26—all three UW campuses will throw open their doors and invite alumni, friends and the community to enjoy open houses, demonstrations, performances, behind-the-scenes tours and much more.

If you have ever attended Washington Weekend, you know how eye-opening it can be. Children and adults alike walk away dazzled after making a comet with their bare hands at the astronomy department open house or appreciating the intricate work done by metal- design students in the School of Art. And those are but two examples of hundreds of Washington Weekend activities.

Giving everyone a chance to experience the wonder of the UW is one of the goals of Washington Weekend. This signature event is significant because it brings Huskies like us together and shows us all that we are part of this University. As an alumnus, you were and will always be part of the UW's success, its reputation and its importance to all of our lives.

I grew up in a Husky family. As a kid from Montlake, I came to campus often with my dad (who was the UW's chief spokesman for many years), and I was able to see a lot of the UW before I came here for college. Washington Weekend is our way of giving you that same insider's view—as well as a chance to feel your connection to this University.

In fact, Washington Weekend has become so popular that we can't fit everything into one weekend. Here's just one example of a very special event adjacent to Washington Weekend that can keep you involved with the Husky Community:

On April 29, we are honored to host the Spring 2008 Provost Distinguished Lecture, featuring Joel S. Migdal, the Robert F. Philip Professor of International Studies. He is an expert in Middle East studies, and winner of a Governor's Writers Award for his 1994 book, Palestinians: The Making of a People.

This spring we will also be celebrating the diversity of our Husky Community. On May 7, the FEOP (Friends of the Educational Opportunity Program) Celebration will honor scholarship recipients and to pay tribute to the 1968 Black Student Union, whose leadership and determination led to the creation of the Office of Minority Affairs and Diversity—and made the UW a leader in diversity among major public research institutions.

Later that month, on May 20, we will join with the Office of Minority Affairs and Diversity for a special event on the 40th anniversary of the student protests led by the Black Student Union (see "Tides of Change," page 55).
I hope you will join me for all of these great events!

We will also be kicking off our spring membership campaign in March, and I hope those of you who haven't joined the UWAA will consider making the commitment to stay connected. After all, our programs—like the many I have just mentioned—can't happen without your support.

It is the support of our alumni that makes the University what it is today. So thank you for being a part of the Husky Community.




Chuck Blumenfeld, '66, '69
Executive Director, UW Alumni Association