| | |
| --- | --- |
| Trouble in Mind | |
Written by Mary Guiden
Page 3 of 3


Both registries are based at Group Health, which has detailed health records going back to the time its members first enrolled in the health coop. The Group Health-based information—used by UW and other researchers in the Puget Sound area as well as across the country—is unique, says Larson. "To my knowledge, this is the only place in the world where you can link detailed drug exposure data [to dementia]," he says.

While not a part of these registers, Helen Pulsifer has participated in Alzheimer's studies, including one by Psychiatry and Behavioral Sciences Professor Soo Borson, director of the UW's Memory Disorders Clinic.

Borson is a leader in screening for Alzheimer's and treating patients. In a study published last April in the Journal of General Internal Medicine, Borson and UW colleagues concluded that dementia screening by office staff (including medical assistants) is feasible in the primary care setting. But doctors are only likely to take action (diagnose dementia, refer the patient to a specialist or prescribe medications) if the cognitive impairment—or signs of dementia—is severe.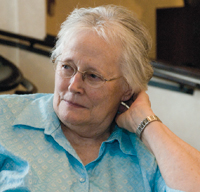 But there is a problem with developing better screening tools—do patients and their families really want to know the bad news? Some groups—including the newly formed Alzheimer's Disease Screening Discussion Group—are pushing for routine screening of older people for the disease, while others caution about potential negative consequences.

Borson says if providers make a diagnosis of some dementia, they are not sure what they can do with the information. "Doctors don't do much with the [screening] data, and that is where our work is moving now," she says.

Five prescription drugs are currently approved by the U.S. Food and Drug Administration to treat people with Alzheimer's: Razadyne, Exelon, Aricept, Cognex and Namenda. The first four medications may help delay or prevent symptoms from becoming worse for a limited time and may help control some behavioral symptoms. Namenda has been shown in some studies to allow patients to maintain certain daily functions a little longer.

Borson, who has worked with Alzheimer's patients for some 20 years, says the disease is becoming more high profile. Pharmaceutical company interest is piqued, too, in light of the statin and other drug-related studies. With predictions that show a 70 to 100 percent increase in Alzheimer's cases in the next 20 years, there is a small "arms race" to work on screening, better care delivery, possible prevention methods and, of course, discovering drugs that can hold back dementia.

Larson said all these factors create a "stay tuned" environment. "There's no pill that works even though people are looking for one," he says. "With genetic work that's going on, it may be possible some day to define people who are never going to get the disease and people at high risk for whom a more aggressive prevention strategy, including perhaps even a pill, might be indicated. We're not there yet."

Lindsay Pulsifer recognizes that we're not there yet, though she remains hopeful that UW and other research may make things different for future generations.

Given the family history, Lindsay, 55, also saysid she can't help but think about her own health issues. "I used to be 100 percent reliable in a hallway conversation," she says. "I would never forget to follow up, but I have totally lost that ability and I know it. Frankly, it has me fairly scared." • Mary Guiden is a communications specialist for Health Sciences/UW Medicine. Her work has been published in the Seattle Times, Puget Sound Business Journal, Washington Law & Politics and The Nation.


Reducing the Risk
While there's no sure fire way to prevent Alzheimer's disease, Eric Larson, '77, executive director of Group Health's Center for Health Studies and a former medical director at UW Medical Center, says reducing your risk of heart disease could help. His tips include:

• Exercise regularly, stay physically fit
• Watch your diet to control weight
• Treat high blood pressure (if you have it)
• Stay socially engaged
• Pursue mentally-stimulating activities
• Stay tuned (for more research findings)


Warning Signs or Normal Memory Lapses?
Alzheimer's symptoms
Normal age-related memory changes
Forgets whole experiences
Forgets part of an experience
Rarely remembers later

Often remembers later
Gradually unable to follow directions
Usually able to follow written/spoken written/spoken directions

Gradually unable to use notes

Usually able to use notes
Gradually unable to care for self

Usually able to care for self
Source: Alzheimer's Association of America