| | |
| --- | --- |
| Trouble in Mind | |
Written by Mary Guiden
Page 2 of 3


Alzheimer's can cause dramatic personality changes, as seen in the award-winning performance of Julie Christie in the recently released film Away From Her. High profile cases include former President Ronald Reagan, novelist Iris Murdoch, boxer Floyd Patterson and actor Charlton Heston.

Pulsifer's family was fortunate. Their mother managed to live alone until two years ago, when they moved her into assisted living. But her Alzheimer's has progressed to the point where she recently forgot her 80th birthday, despite repeated calls from her children to remind her of plans for a catered lunch.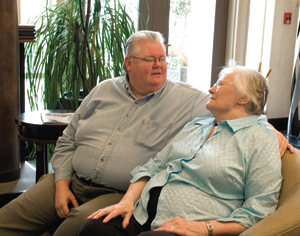 For many years Alzheimer's disease seemed like a death warrant with no hope for a reprieve. But now research at the University of Washington, other universities and health-care organizations is beginning to offer hope for those stricken with this form of dementia—and their families. Two UW drug-related studies show some promise, and a local patient registry—the only one of its kind in the world—is offering tantalizing hints at the cause of this disease.

In a study published last August in Neurology (and subsequently covered in the New York Times), UW researchers found that elderly people who had taken statins, or cholesterol-lowering drugs, had a lower frequency of tangles in their brains.

Psychiatry and Behavioral Sciences Professor Gail Li was looking at risk factors for Alzheimer's. "Around the year 2000, there was a notion that elevated cholesterol increases the risk of Alzheimer's disease," she says. At the same time, there were epidemiological studies that showed statins might help prevent Alzheimer's.

Li's study was the first to compare the brains of people who had taken statins to those who had not. Researchers autopsied the brains of 110 deceased members of Group Health Cooperative, aged 65 to 79, who had donated their bodies for scientific research.

The study was observational—research subjects did not intentionally take certain medications, nor was there a control group—so the results are not scientifically proven, but they were encouraging. The statin users had a lower frequency of the tangles in their brains.

"People tend to jump [to the conclusion] that statins can prevent Alzheimer's and we really can't say this," Li says. A lot more work needs to be done. Previous studies in the U.K., for example, found no difference in statin versus non-statin users on rates of dementia.

But Li's study is significant, says Eric Larson, '77, executive director of Group Health's Center for Health Studies and a former medical director at UW Medical Center. "This suggests that if you treat the vascular risk a person has with a drug like a statin, it may reduce the risk for changes seen with Alzheimer's," says Larson, who has studied dementia since the late 1970s.

In another UW study, Professor Thomas Montine, director of neuropathology at Harborview Medical Center, is looking at antioxidants as they relate to Alzheimer's. Past research by Montine and colleagues at the University of Kentucky has shown that oxidative damage occurs in the brains of those with Alzheimer's, particularly in the middle and late stages of the disease. This damage also eventually kills brain cells.

Montine is measuring free radical damage in the different components that make up the brain. "It remains a legitimate question—does supplementation with antioxidants (either through pills or diet) have any beneficial effect?" he asks.

Montine says his research—looking at brains of people who have donated their organs for science—builds on that of UW colleague Shelly Gray in the Department of Pharmacy. Gray's research indexes patients' exposure to common antioxidants including vitamins E and C, and other components of multi-vitamins. Her latest findings, published last month (February 2008) in the Journal of the American Geriatrics Society, found Vitamin E andor C does not reduce risk of dementia or Alzheimer's. ; Montine's studies use that data and look at the biochemical exposure in the brain. Results from histhe antioxidant work will be published soon, he saidsays.

Li, Montine, Gray, Larson and other Alzheimer's researchers depend on two local patient registries to support their work. One is a database of patients with dementia that covered a 10-year period and includes those willing to have autopsies performed after their death. The other is an on-going database that enrolls cognitively healthy patients and follows the subjects forward in time, with researchers looking for signs of dementia.