| | |
| --- | --- |
| Shade Crusade: Why City Trees Are Good Medicine | |
Written by Sandra Hines
Page 1 of 3

A shopping blog for "green, eco-friendly pet owners" features a dog collar made from recycled inner tubes and lined with silver seatbelt material.

A so-called "eco-luxury" vodka uses only locally grown grain and comes in a bottle of recycled glass for what the Missouri distiller says is, a "vodka with a green state of mind."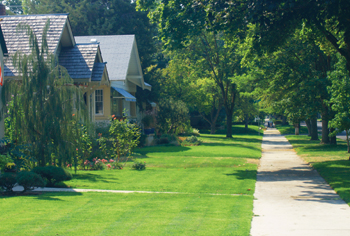 And now you can go green to the grave with biodegradable coffins. It's composting at its best, says the owner of Natural Burial in Portland, Ore., which sells products like the Ecopod, a kayak-shaped coffin made out of recycled newspapers.

Seems like everything and everybody is going green these days.

But where is the green going? American Forests, a Washington, D.C., nonprofit, found that America's largest cities have lost more than a quarter of their tree canopies since 1972. In Seattle, the city's urban forester Mark Mead, '82, '87, says that 18 percent of the city has canopy cover, down from 40 percent just 35 years ago. That's about half of what is recommended for a city of its size, according to American Forests.

"If we don't have urban green in our surroundings, our lives are diminished," says Kathleen Wolf, a research scientist with the University of Washington's College of Forest Resources. "And it's usually taken for granted until it's gone."

Urban forests provide many obvious benefits. When rains inundate cities, as they did in western Washington this winter, trees and green spaces help reduce stormwater runoff. One study found that the canopy of a single, leafy, 38-foot-tall tree intercepts and holds rainwater, reducing runoff by 290 gallons.

Urban tree canopies and green spaces also remove pollutants from air and water, soak up the greenhouse gas carbon dioxide and provide cooling shade for concrete-laden cityscapes. Scientists estimate that a mature tree canopy in a city center, for example, reduces air temperatures up to 10o F and can even influence indoor temperatures of nearby buildings.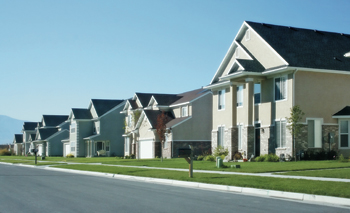 Along with the environmental gains, there are other benefits less obvious to the casual observer: studies show that urban greenery makes us healthier and happier, says Wolf, who is an environmental psychologist.

• In one study, scientists put their subjects through stressful mental exercises and then showed them images of nature or of urban environments without any green. During the tests, they measured physiological responses such as heart rate and blood pressure. The subjects who looked at nature shots had lower stress levels than those exposed to urban images, and their responses returned to normal faster.

• Environmental psychologists looked at two parts of a public housing site in Chicago: one with more trees, grass and plants than the other. The "green" housing area had fewer domestic disputes, lower levels of fear, less crime and better relationships among neighbors.

• Greenery even affects how we see the world. Jenna Tilt, '01, asked her subjects to estimate the walking distance in settings with lots of greenery and settings with less green. If the neighborhood has more street trees and other plants, people judge walking distances to be less, even if the distances are the same in both settings. Why is that important? If you feel that it's easy to walk someplace, you just might be more inclined to do so, something that's important in the face of the mounting medical costs of inactivity and obesity among Americans.

• A Japanese study looked at elderly people living in high-density Tokyo. The elderly with green in their neighborhoods were, during a five-year period, healthier and had a lower mortality rate. The researchers controlled for such things as age and the health of participants at the start of the study.
"To me this is very exciting," Wolf says. "It means in green environments, where people are able to walk about, you get the recommended moderate-activity levels and health benefits.