If you have not had a chance to visit our campus in a while, you might be surprised to see a number of impressive new buildings, like the William H. Foege Building, interspersed among your old favorites, some of which have had facelifts of their own. Our construction and renovation projects give our community many reasons to be proud. They strike just the right balance between preserving tradition and preparing for the future. They provide world-class facilities for our award-winning faculty to tackle complex research problems. And—something you might not expect—they represent a vital opportunity for the University to fulfill its responsibility as a leading environmental steward for the Puget Sound region.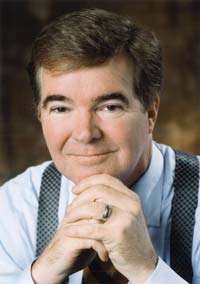 The UW is committed to being a positive force for the enhancement of the environment, not just in research but in how we manage our facilities and resources. So, when we begin planning a new construction or renovation project, sustainable building design is a crucial part of the process. We have taken as our standard the LEED Green Building Rating System, which provides an established framework for assessing building performance and meeting sustainability goals. I am delighted that Gov. Christine Gregoire, '69, '71, has also adopted the LEED system, making Washington the first state to require all major public facilities to meet "green building" standards.

Among our recently completed projects, two have been certified as LEED Silver and one as LEED Bronze. These projects incorporate such environmentally friendly features as energy-saving natural ventilation and solar panels, a stormwater recycling system, native plantings and more. Two projects currently under way and four others commencing design are all targeted at the LEED Silver level.

Our commitment to sustainability by no means ends when construction is completed. The University employs a comprehensive set of operations procedures designed to maximize resource conservation. Using tools like occupancy sensors and flow restrictors, we have made significant reductions in our average daily consumption of fuel, electricity and water. These reductions are also of great benefit to our bottom line: We have avoided over $35 million in utility costs since 1996.

Pollution prevention is another key feature of our sustainability efforts. We have moved progressively away from using pesticides. Our grounds crews even brew a special "compost tea" to avoid chemical use. Not to be outdone, our custodial services teams have adopted "green cleaning" products, and transportation services has a fleet of initiatives, including a growing number of hybrids, electric and alternative-fuel vehicles, and cleaner-burning diesel trucks and buses, in the motor pool. Further, 100 percent of the electricity we purchase from Seattle City Light is green power.

In addition to working to achieve best practices for sustainability for our campus, the UW possesses a breadth of expertise that uniquely positions us as a leader in environmental stewardship throughout the Puget Sound region. The UW Earth Initiative and the UW Water Center, with support from the College of Ocean and Fishery Sciences and the Evans School, have prepared an inventory (available on the UWEI website: ) of the University's contributions to the search for solutions to the Sound's most pressing environmental problems. It is a wonderful tool to help us and our partners identify needs that are not being met as well as opportunities for leveraging and enhancing existing initiatives.

Sustainability of our planet, let alone our region, may be the most critical issue of the 21st century. The UW's commitment to sustainability starts at home, with dedicated efforts to practice and promote environmental stewardship in all things that we do. Our achievements may one day be generalizable to metropolitan areas around the globe—I certainly hope so. But at the very least, they allow us to say that we practice what we preach.




MARK EMMERT, '75, President