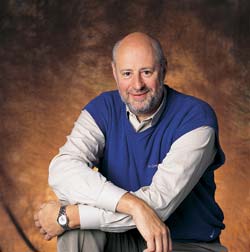 Open Houses, Conversation Weekends Coming in Spring for Alumni
Spring—and the promise of wonderful weather—is just around the corner. But that isn't the only reason I am excited. We have a lot going on this spring, including the second annual Washington Weekend, which will take place April 27–29.

Washington Weekend will be even bigger and better than last year, when 15,000 alumni and friends turned out at all three UW campuses to take part in our inaugural community open house.

We are thrilled to announce that the big Health Sciences Open House—one of the most popular on campus—will be held during Washington Weekend, along with the eye-opening open house in the College of Engineering.

Of course, we will have our other standbys—open houses and tours of other schools and departments, hands-on demonstrations for the entire family, lectures, entertainment, music—something for everyone (see pages 48-49). And, like last year, almost everything is free.

'Conversations' weekends are coming in June
"Conversations," our exclusive educational weekend retreat, will be held two weekends in June at the fabulous IslandWood resort on Bainbridge Island.

These weekend gatherings will give alumni, friends and donors a chance to rub elbows with our world-class faculty, talk about the big topics, share ideas and enjoy time exploring this 255-acre outdoor learning center just a short ferry ride away from downtown Seattle.

The first Conversations weekend will be held June 2–4 and features W. Lance Bennett, the Ruddick C. Lawrence Professor of Communication and Political Science. He is the founder and director of the UW's Center for Communication and Civic Engagement, and he will discuss individual citizenship and identity in "A Democracy of One? Changing Citizen Identity and the Crisis of Politics."

The second weekend, June 23–25, will feature Kathleen Woodward, professor of English and director of the Simpson Center for the Humanities. She will talk about her research into such topics as technology and culture, aging and emotions in her presentation, "I Feel, Therefore I Am: How Cultural Values Shape Our Emotions."

We hope to share this experience with 20–30 guests for each weekend. Go to <UWalum.com> for all the details.

Husky Navy sets sail on UWalumshop.com
Meanwhile, I am proud to announce you can join the Husky Navy today! The Husky Navy is our line of flags, shirts and other merchandise for boaters, and it is available exclusively at West Marine's four area stores (in Seattle, Bellevue, Tukwila and Lynnwood).

We will be expanding our other exclusive offerings, including the immensely popular color photos of the UW campus. Visit <UWalumshop.com> regularly to see what's new.

Dawg Deals specials—just for you!
We also have some terrific Dawg Deals for you this month. You can save on everything from airport parking to gym memberships to florists. Just go to <UWalum.com> and click on "Dawg Deals" on the right side of the page.

Special University Book Store savings for members
We've teamed up with University Book Store to offer you another special deal—for the entire month of April, show your UWAA membership card at any University Book Store location and you will receive 10 percent off your purchase for most items.

Won't you join us?
The UW Alumni Association is all about celebrating, reaching and connecting with alumni, and supporting our University. We are always working to bring you the best value for your membership dollar, and keeping you connected with the University.

Without a doubt, joining the UWAA is the best way to do that—as well as show your Husky Pride. After all, we all belong to the Husky Family.

Happy spring. I hope to see you at a UWAA event.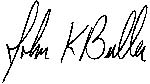 JOHN K. BULLER, '69, '71
Executive Director, UW Alumni Association