Page 3 of 7
Then came a revelation. "I said, 'Why am I dashing back when my fellow American dormmates are continuing to do what they were doing?' The obvious factor of my Japanese ancestry, that's the only reason that differentiated me on this order, and I said to myself, 'Gee, if the American Constitution means anything at all, this is wrong. And if I believe in the Constitution, I've got to object to this.' "
So Hirabayashi ignored the curfew. He went where he liked and stayed out as long as he liked. Though he broke the curfew for two months, nothing happened.
As the military imposed its curfew, Sieg and O'Brien stepped up efforts to help their Japanese American students. Sieg wrote a letter to the deans near the end of winter quarter, politely urging them to give these students full credit. Later, when the remaining students left for the camps in mid-May, Sieg asked the deans to graduate those who had almost completed their degrees. Some of these deans felt it was "outrageous," O'Brien later recalled. "But President Sieg knew what he thought was right."
No one knew exactly when the Nisei in Seattle would have to leave. All UW officials knew was that the order would come before the end of spring quarter. At most, they had eight weeks to find places for up to 440 students.
While O'Brien was beginning to organize transfers, Japanese American students faced a difficult choice. If they left for the Midwest or East, they would leave behind their parents and siblings, who would have to make arrangements for their homes and businesses and then travel to the camps.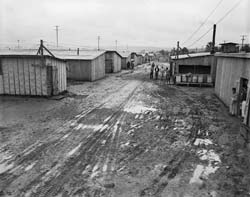 There were financial problems was well. Many of their families were going to sell their homes and businesses for less than they were really worth. The UW students were going to have to pay private or out-of-state tuition wherever they were being sent.

In addition, there were mountains of paperwork. For some, it would be an eight-step process, demanding clearances from the FBI, the Army and the Navy before the transfer would be allowed. Despite the roadblocks, at the end of the academic year, O'Brien reported that 58 students were able to transfer to 15 different colleges in 12 states.

Figuring he would be "evacuated" soon, the 24-year-old Hirabayashi dropped out of school to help the American Friends Service Committee prepare local Japanese American families for the camps. "When I helped families get to their buses for departure, they waved good-bye to me, saying, 'We'll see you later.' They thought I'd be on the next bus," he said.

After two weeks of packing up families headed for the "assembly center" in Puyallup, Hirabayashi started to doubt his decision to follow along. "If the curfew bothered me to the point where I ignored it, how could I go along with this?" he asked himself.

He would have talked it over with his best friend, Howard Scott, but Scott had already reported to a conscientious objector's camp in California. Hirabayashi had invited a fellow Nisei student, Bill Makino, to share his room at the Y so that Makino could study late on campus and still obey the curfew. Like so many college roommates, the two stayed up at night talking about current events.

"There was no question. This was wrong as far as we were concerned, and if we were good citizens we'd point this out by refusing it," said Hirabayashi. "If there's a court case, it'd be a two-man case."

But Makino's elderly parents convinced him to join them in the camps instead. Hirabayashi's parents were also worried. His mother, while agreeing on the principle of her son's stand, wanted the family to be together. She was a reader of adventure novels such as The Count of Monte Cristo. "She pictured me being tortured in a dungeon," Hirabayashi said.

Despite the family's concerns, he knew he had to disobey the orders. "I was not sure that I could abandon my values, goals and self-respect and still serve my family, community and country," he later explained. "I'm doing something on behalf of the American Constitution, the freedom of religion, the freedom of decision."

Hirabayashi confided in colleagues at the Y and in his Quaker meeting. He started writing a statement justifying his actions and, since he was a YMCA student officer, he felt he had to share it with YMCA board.

Former State Senator Mary Farquharson, a YMCA advisor and wife of Engineering Professor Frederick Farquharson, confronted Hirabayashi one day. "I want to check a rumor. I heard that you are going to object to the exclusion order," she said.

Hirabayashi confirmed the rumor. "Well, now that I have heard this from you, I want you to know first of all, I am behind you 100 percent," she declared.

She told Hirabayashi that a group of civil rights activists were concerned. She named Schmoe, local attorney Art Barnett, "U" District businessman Ray Roberts and others. "Could we make this a test case?" she asked.

WEB EXTRA: Letters to the Editor