Page 1 of 7

After Pearl Harbor, as the U.S. Imprisoned Thousands of Its Own Citizens in Internment Camps, More than 400 Japanese American Students Had to Drop Out of the UW. This Is the Story of Some Forced to Leave—and One Who Resisted.
Gordon Hirabayashi was a model student at Auburn High School. He was so bright, he skipped a grade and graduated at age 17. A popular student and self-described "sports nut," he was invited to join an exclusive high-school group sponsored by the YMCA. His classmates would have laughed if someone had told them their short, bespectacled friend was destined for a prison road gang in Arizona.
After graduating from high school, "Gordie" spent more than a year working at his dad's vegetable stand to save money for college. His mother really wanted him to go to an Ivy League school, not the UW, an unrealistic expectation for Japanese American truck farmers in the depths of the Great Depression. The UW would have to do.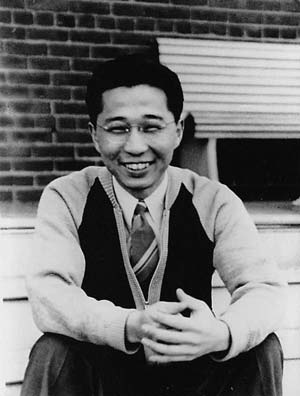 He finally arrived at the UW in 1937, working as a "school boy" for a local doctor. In return for housekeeping duties, he got free room and board. For his first two years, he studied mathematics fall and winter quarters but stayed at home in the spring to help with the planting.

Like most Nisei (second-generation Japanese Americans), Gordie was a member of the Japanese Student Club. But he never lived at the clubhouse and gradually drifted away from most activities. Due to his YMCA ties in high school, Hirabayashi joined the University YMCA in Eagleson Hall. "It was the home of 'liberal thinking' and with inspiring speakers, thoughtful discussions and so on. I liked the people there," he later said.*

It was in the dorm rooms and dining area of Eagleson Hall that Hirabayashi's life of crime began. His best friend was a white student from Marysville, Howard Scott. "We just had the same vibes, I guess, and we were both poor," Hirabayashi recalled.

In 1939 Hirabayashi qualified for a federal work-study program. No longer a school boy, he moved into Eagleson. Scott became the YMCA student president and Hirabayashi the vice president. In school he was drifting away from math and towards sociology. "Life was really shaping up," he recalled.

But for the first time in its history, the United States instituted a peacetime draft. Hirabayashi, Scott and other Y leaders decided to register as conscientious objectors. Hirabayashi and Scott also joined the Society of Friends—the Quakers.

Sueko Sumioka remembers well one encounter she had with Hirabayashi in this pre-war period. "I was on the campus before the war broke out, agitating for equal rights for the Nisei. I remember Gordon telling me, 'Progress is made by evolution, not revolution,' " she recalls. "But he turned out to be the revolutionary."

After Pearl Harbor but before the internments began (see "The Stolen Years, Part One," December 2005), some Nisei students still held out hope. "I was an American citizen and nothing would happen to me," Hirabayashi thought. "We really believed that. In fact, later, as we were being picked up, even as it was happening, we could not really believe it was happening to us!"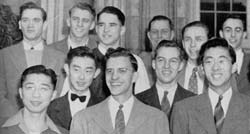 But it was. Shortly after Gen. John L. DeWitt issued the March 1 order banning anyone of Japanese ancestry from the West Coast, Japanese Americans on Bainbridge Island were taken away to an "assembly center" in California.
A day after DeWitt's proclamation, UW President Lee Paul Sieg told the Daily, "The University of course will comply with all orders issued by the Army."
Trained as a physicist, Sieg was an enlightened leader who guided the University through the depths of the Great Depression. Despite the weak economy, the UW student population grew to more than 8,000 by the fall of 1941. But once the Japanese attacked Pearl Harbor, the UW went to war. Civilian enrollment dropped by about 3,500 and more than 100 faculty took leave for the armed forces or war work.
In the midst of the fervor, it would have been easy for Sieg to dismiss the fate of some 440 Japanese American students as a casualty of the war. But according to an oral history recorded with one of his assistants, Robert O'Brien, Sieg opposed the internments. Behind his office doors, they launched an effort to place willing Nisei students at colleges outside the exclusion zone. On March 6, O'Brien drafted a letter for Sieg to send to 25 college presidents.
WEB EXTRA: Letters to the Editor