March 2005 -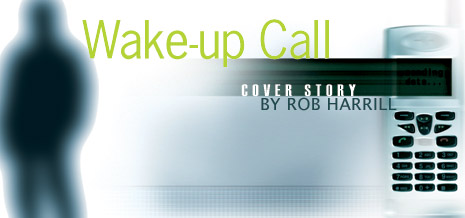 Old Medicine, New Cure?
As funding for cellphone-related research has become increasingly scarce in this country, University of Washington Bioengineer Henry Lai has pursued other areas of interest. Chief among them is a foray into the ancient arts of Chinese folk medicine to find a promising potential treatment for cancer.
Lai and colleague Narendra Singh have exploited the chemical properties of a wormwood derivative called artemisinin to target cancer cells, with surprisingly effective results. Last fall, the UW TechTransfer Office signed a licensing agreement with a Chinese pharmaceutical company to develop a group of artemisinin-based compounds for possible use in humans.
The compounds are promising, officials say, but medical applications are still years away. Lai says he became interested in artemisinin about 10 years ago. The chemical isn't new-wormwood was apparently used by the Chinese thousands of years ago to combat malaria.
The treatment became lost, but was rediscovered in the 1970s in an ancient record listing medical remedies. It's now widely used to fight malaria in Asia and Africa.
The chemical helps control malaria because it reacts with the high iron concentrations found in the single-cell malaria parasite. When artemisinin comes into contact with iron, a chemical reaction ensues, spawning charged atoms that chemists call "free radicals." The free radicals attack cell membranes and other molecules, breaking them apart and killing the single-cell parasite.
Lai began to wonder if the process might work with cancer, too. "Cancer cells need a lot of iron to replicate DNA when they divide," Lai explains. "As a result, cancer cells have much higher iron concentrations than normal cells."
Most recently, Lai and Singh looked at a method that involves the use of the protein transferrin, to which the researchers bound artemisinin at the molecular level. Transferrin is an iron-carrying protein found in blood, and it is transported into cells via transferrin receptors on the cell's surface.
Iron-hungry cancer cells take in the transferrin without detecting the attached artemisinin. "We call it a Trojan horse because a cancer cell recognizes transferrin as a natural, harmless protein and picks up the tagged compound without knowing that a bomb - artemisinin - is hidden inside," Lai says.
According to a study published in January in the journal Life Sciences, the compound is 34,000 times more effective in selecting and killing cancer cells than normal cells. Artemisinin alone is 100 times more effective.
"So we've greatly enhanced the selectivity," Lai said. -Rob Harrill
Go To: Page 1 | Page 2 | Page 3 | Page 4
Inside the Wave: Web exclusive on more cell phone radiation research
Making Waves: Worrisome results from European cell phone study
Old Medicine, New Cure?: Henry Lai's cancer research shows promise