WHEN AUTHOR STEPHANIE KALLOS had to take time away from writing her second novel to promote her first one, the critically praised Broken For You, she felt she needed to make a few apologies first.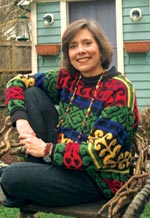 ---

Above: Stephanie Kallos, '82, in a drama school production of Chekov's The Suicide. Photo courtesy of UW School of Drama. Left: Kallos today poses in her backyard. Photo by Mary Levin.

---
She didn't offer apologies to family or friends, though with book promotions those are always a possibility. No, Kallos went to her computer and fired off a quick note of explanation to fictional characters in her next book—to Larken, an obese art history professor and her brother Kelley, a body-building TV weatherman, among others—whose lives would be suspended while their creator attended to other matters.
Kallos does this sometimes, she says—writes to her characters to prod them into action or inquire into their affairs, as if they were beings separate from herself. Unusual, maybe, but Kallos knows a lot about fictional characters, having been several herself.
She's a former actress and a 1982 graduate of the University of Washington's Professional Actor Training Program (PATP). She spent about 20 years acting—filling characters created by other writers with her own life's breath—before stepping back to consider other paths. And though she has left acting behind for the life of a parent and author, glimmers of her stage past shine through her fiction. Kallos appreciates the connection; much that she learned in the theater comes in handy in her writing, she says. Kallos is but one of scores of PATP graduates who, after years or decades pursuing work on the stage or in film, have moved on to careers outside of entertainment. Though their stage days are behind them, many of these alumni say they still benefit, directly or indirectly, from skills they learned in the program.
"As an actor you inherit a tiny bit of text from the playwright and fill in the internals," Kallos says. "That's all that novelists do. We are responsible for the prose part of the character and the dialogue as well, but the big release you get is the ability to dive into somebody's head. And that's the part of acting I liked the most," she adds. "The inner life."
Writing fiction, she says, is like "cultivating a benign form of schizophrenia." She says she doesn't plan every nuance of her characters' destinies; in fact, it sometimes seems more the other way around. "Characters come in mind and they frequently have their way with me." The actors training she got at the UW helped make such explorations possible—understanding of a character's "inner life" is needed as much by authors as by actors.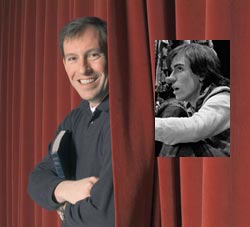 ---

Smith today is more often in front of a pulpit. Photo by Mary Levin. Far right: Smith in a drama school production of A Winter's Tale. Photo courtesy of UW School of Drama.

---
The PATP has been preparing young actors for entrance into the entertainment world for nearly four decades. Started in 1970 by Seattle theater icon Gregory A. Falls (who went on to found Seattle's A Contemporary Theatre), it is an intensive, three-year M.F.A. program designed to ready students for acting careers in theater, television and film. Taught by instructors with solid professional experience, the program gives students skills in acting, voice, movement, research and analysis, and even stage combat. The program has been rated as among the best professional training schools in the nation, and accepts a mere 10 actors every year of the nearly 1,100 who apply. The PATP has produced many working actors and theater professionals, employed from Hollywood to Broadway and virtually all points in between. "We try to create actors empowered to be artists in their own right," says Sarah Nash Gates, executive director of the UW School of Drama. With such training, she says, they can become good craftspeople who can work collaboratively or on their own. Mark Jenkins, who runs the PATP, calls the training "the basis for a lifelong inquiry, curiosity and the discipline to keep training." But for every star PATP alumnus, such as Kyle MacLachlan of Sex in the City or Jean Smart of Designing Women, there are many others who ultimately veer away from acting. It's not surprising, given the difficulty of the profession; unemployment rates in both Actors Equity and the Screen Actors' Guild, the two main actors unions, usually run well above 80 percent.
Like Kallos, 1990 PATP graduate Dwight Smith also found a different profession—he became a minister. Smith is lead pastor of the Oasis Christian Fellowship, a small church outside Seattle. And though he still does the occasional acting gig when he can—voice-overs, films, plays and commercials—his service to his congregation is more than just a day job, it's his life.
Go To: Page 1 | Page 2
On the Scene: 10 Famous PATP Graduates