March 2005 -
Legends in the Making
As president of our remarkable University, I have the pleasure of engaging in many moving conversations about the UW. When I talk with alumni, my favorite exchanges revolve around a common theme: "Hi, President Emmert, good to see you. Say, is Professor So-And-So still teaching? She was incredible—I still remember her classes. I loved studying with her"—followed by details.
Presidents love these conversations. They get right to the heart of what colleges and universities do at their best: connect learning and human inspiration in a way that stays with students for a lifetime.

And in fact, I have my own Professor So-And-So. Back in the 1970s, UW History Professor Tom Pressly, simply by being the brilliant scholar and teacher that he was, showed me a world I had never imagined. Without either of us realizing it at the time, he convinced me that I, too, wanted an academic life. Everything followed from that. Last fall, when I happened to run into Professor Emeritus Pressly in Suzzallo Library, I instantly felt 19 again—and overwhelmed.
Universities change lives, and the agents of that change are the faculty. For each generation of students, certain professors become legends. I still marvel that Tom Pressly, Giovanni Costigan and Jon Bridgman were all teaching in the UW history department when I was an undergraduate. But I marvel also at the faculty legends-in-the-making I have met since returning to the UW. Let me introduce a few.
Drama Professor Robyn Hunt was the speaker at Freshman Convocation last September. Any of you who were there as parents can testify to her power as a teacher. Actors, of course—and she is a fine one—are trained to deliver their lines, but her message, about life and work, was at least as compelling as her delivery. When I talk to students in drama, hers is the name that comes up repeatedly. Her boundless energy, the time she lavishes on individual students, her openness to new approaches, and all the experience and insight she brings from a wide-ranging career in the theater—these are things that her students treasure.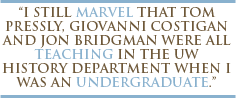 They also help keep our drama program near the top of the national rankings. In 2001, the University recognized Professor Hunt with a Distinguished Teaching Award. Tom Daniel, professor and chair of biology, has won both a Distinguished Teaching Award and a Distinguished Graduate Mentor Award—not to mention a 1996 MacArthur "genius" award, the proceeds from which he promptly devoted to his graduate students. Professor Daniel exemplifies, brilliantly, a new kind of university teaching: science professors who inspire and invite undergraduates to join them in cutting-edge research. Professor Daniel's lab studies the mechanics and neurobiology of animal movement, with collaborators from all over campus. His imagination and enthusiasm light students up; his concern for their welfare they find simply astonishing. He describes his work as "just having fun with my students."
Mary Lidstrom is a microbiologist whose research led her into chemical engineering. Now, as a professor in both disciplines, she is on a mission to bring more students to the critical boundary where engineering meets the life sciences. In "Biological Frameworks for Engineers," a class she created and co-teaches, undergraduate engineers study living systems as incomparable feats of natural engineering. Students find this dual perspective fascinating—and a step toward exciting careers in biotechnology. In 2002, Professor Lidstrom was one of the first 20 recipients nationally of the Howard Hughes Medical Institute Professorship, awarded to "leading research scientists who also are deeply committed to making science more engaging for undergraduates."
Fifteen or 20 years from now, faculty members like these will be remembered as giants by their former students, who today are strolling across "Red Square" and hanging out at the HUB. And another UW president will have the pleasure of talking to alumni about the teachers who had such lasting influence on their lives.
Mark Emmert, '75
President