March 2005 -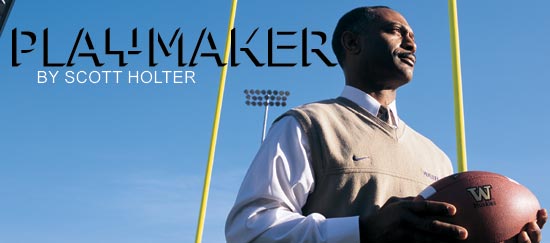 "Tyrone is a natural leader who clearly directs all activity by example," he says. "He is terribly empathetic, certainly task-oriented, adaptable and incredibly passionate about teaching both the game and life lessons to young men."
But while colleagues and pundits were saying Willingham got a raw deal, the coach took the news in stride.
"Everything that happens in your life is a positive if you turn it in that direction," he says. "I don't feel guilty in saying that I've never had a bad day. When Notre Dame fired me, that wasn't a bad day, it was a bad moment. I went home to a wonderful family who still loved me and cared for me. I still had a wonderful life. I refused to let that be a bad day.
The Willingham File
BIRTHPLACE: Kinston, N.C.
BORN: Dec. 30, 1953
COLLEGE: Michigan State. Quarterback, wide receiver in football; center fielder in baseball. Graduated in 1977 with degree in physical education.
CAREER: Assistant coach at Central Michigan (1978-79), Michigan State (1980-82), North Carolina State (1983-85). Rice (1986-88) and Stanford (1989-91). Followed Dennis Green to NFL's Minnesota Vikings as running backs coach (1992-94). Head Coach at Stanford (1995-2001) with 44-36-1 record. Head coach at Notre Dame (2002-2004) with 21-15 record.
FAMILY: Wife Kim and three children: Cassidy, 20; Kelsey, 16; and Nathaniel, 14.
HOBBY: Golf.
"Certainly on Saturday afternoons I've had three hours of bad moments. But three hours are still not greater than the next 21 that comprise that day. And if you let it become a bad day, it's your fault."
Willingham considered taking a year away from coaching, which would have eliminated one of the four things he holds most dearly: football, family, golf (he carries a 12 handicap) and God—"although not in that order," he says. But Turner called soon after the firing, and the thought of returning to the West Coast and to a conference in which he was familiar intrigued Willingham.
When he was introduced as the next UW head football coach on Dec. 13, signing a five-year contract worth $1.4 million per year with $600,000 in possible incentives, Willingham said his family was excited to make Seattle its new home. "My son would have walked here. He had already changed the wallpaper on his computer to purple and gold," he recalls.
Willingham, teamed with Husky Men's Basketball Coach Lorenzo Romar, makes UW the only Division 1-A school in the U.S. with African Americans in its two most prominent coaching posts. There are only two other African American football coaches in Division 1-A and Willingham is the only black football coach ever to be given a second chance at that level. "The numbers speak for themselves," he says.
When asked what it is like to be a spokesman for African Americans, he says it is a "mixed blessing. I think we as individuals should be extremely proud of our ethnic backgrounds. Whether it's Italian, whether it's African American, we should be proud of that. So I am proud to be African American. But at the same time we want to get to the point in our culture where that is not the focus, where it's really the body of work that a man does."
Willingham prefers to focus on the type of team Husky fans can expect under his leadership. "I know how casual football can be on the West Coast," he says, "but this is not one of those places. It is time for the University of Washington to return to being 'the Dawgs.' In this program, that is a vicious animal. And I think our players are excited about that. "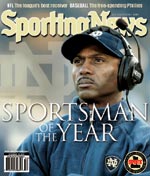 ---

Willingham was named the 2002 Sportsman of the Year by Sporting News. Cover image courtesy of Sporting News.

---
"He is going to have a tough, disciplined and smart football team," says Stanford's Darrin Nelson. "The Pac-10 just got a lot more difficult."
Willingham has dubbed the new revolution of UW football as a "joint venture," calling on the entire Husky family to make an investment into the program. "This family has to unite to do all the things to put this program back to where it was. The excitement has to be generated by all of us who want to build a program for a long period of time." That program will be built on the traits Emmert and Turner targeted: integrity, character and excellence. But also on intelligence, an attribute that Willingham calls the most essential.
"If I have a plumber come to my house," he says, "please Lord, send me the smart plumber. If I have a football player in our system, please send me the smart football player.
"There's nothing cooler than being smart, and we have to emphasize that to our athletes and to our children. It's not just on the field or in the classroom. It's life."
-Scott Holter is a Seattle free-lance writer. This is his fourth article for Columns.
Go To: Page 1 | Page 2 | Page 3