Suddenly the boy who used his electric football game as a three-dimensional playbook was taking his interests to the playing field. By the time he got to high school, Willingham was one of Jacksonville High's top athletes—captain and most valuable player of the football, baseball and basketball teams his senior year.
Off the radar screen of recruiters at larger universities, Willingham handwrote letters to more than 100 college football teams, highlighting his abilities and trying to gauge their interest. Two schools replied: the University of Toledo and Michigan State.
"Jimmy Raye was an assistant coach at Michigan State at the time," Willingham recalls, "and as a North Carolina guy, he was the conduit that allowed me to walk on there."
In 1973, Willingham started four games at quarterback as a freshman for the Spartans, completing 10 passes and earning a scholarship for his sophomore season. But he never completed another pass the rest of his college career. He earned three letters each in football and baseball (he played centerfield and received All-Big Ten honors) and graduated with a degree in physical education.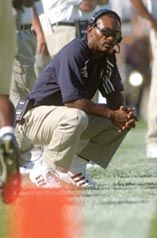 ---

Willingham at Notre Dame. Photo courtesy of Notre Dame Sports Information.

---
Stuck on the sidelines, Willingham often signaled in the plays. It provided a glance into the pressures and responsibilities of the job and made him contemplate coaching as a profession.
"My parents always instilled an element of challenge in us, to not be afraid of challenges and to be able to take a risk," he says. "I don't know if coaching provided that to me at first, but once I got the chance to see what our coaches at Michigan State had to face, I thought, 'Oh, that's a job that's demanding mentally and physically. It's everything I want and it's a worthy profession.' "
After just four months as a graduate assistant under Michigan State Coach Darryl Rogers, Central Michigan hired Willingham as an assistant. In 1980 he returned to the Spartans as secondary and special teams coach and made the most important decision of his life—he married his sweetheart Kim, whom he had met at a Michigan State basketball game. During the next decade, the Willinghams followed coaching jobs to North Carolina State, Rice and Stanford and welcomed daughters Cassidy (born in 1984) and Kelsey (1988), and son Nathaniel (1990).
As a Stanford assistant, Willingham shaped his coaching style under its head coach Denny Green. "When you were around Denny Green," he remembers, "even the janitor knew what the vision was and knew how he could help that vision. If only a few people know the vision, then your organization is never in full gear to accomplish that vision.
"If you can show young men how to be a better football team, I think they'll follow. If you can't show them how to do that, they have no value for you."
Willingham followed when Green was hired to coach the Minnesota Vikings in 1992. As running backs coach, he helped the Vikings make the playoffs in three straight seasons.
But by 1995, legendary Stanford Coach Bill Walsh, who had succeeded Green, resigned. Wanting to put discipline back into the program, Athletics Director Ted Leland looked no further than Stanford's former assistant coach.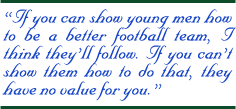 Willingham had finally reached the top level of coaching. But today he bristles when asked if he felt he had "arrived."
"I hope I never arrive," he says. "I hope that never becomes part of my make-up. No player is greater than the team. No coach is greater than the team. If we had more people with that same thought process, I think we'd have a better world."
Willingham paid immediate dividends at Stanford. Picked in 1995 to finish last in the Pac-10, the Cardinal went 7-4-1. By 2001, the team was a contender, winning nine games for only the second time in a half-century and playing in its first Rose Bowl in 29 years. Darrin Nelson, Stanford's senior associate athletic director and a running back for the Vikings during Willingham's tenure in Minnesota, credits organizational and personal skills for Willingham's success.
"Tyrone has a system that always works for him," Nelson says. "He never seems to lose control of what he's doing. He's low-key, a behind-the-scenes guy without always being behind-the-scenes. I found that parents were comfortable with Tyrone. He looks like a college professor, and he has a general interest in his athletes graduating." And they did. Stanford graduated 83 percent of its players in 2001, fourth among Division 1 institutions, a quality that wasn't lost on Notre Dame when it was looking for a new coach the following year. After initial choice George O'Leary was found to have stretched the truth on his résumé, Notre Dame came after Willingham.
"I was sitting comfortably at Stanford," he says, "and we had a chance to make that one of the better programs in the country. But I thought that being an African American coach at Notre Dame would put me in a spotlight that would help other (black coaches) achieve the same. If we were successful at Notre Dame, I could help a lot of people." Willingham's success with the Fighting Irish—21-15 in three seasons—has been debated since Notre Dame's Athletics Director Kevin White announced his firing. Even White can't hide his fondness for the coach he let go.
Go To: Page 1 | Page 2 | Page 3