IN THE DAYS BEFORE NINTENDO OR X-BOX, young boys spent hours hovered over electric football sets, the kitschy '60s board game that used a vibrating metal field to send miniature plastic players crisscrossing to pay dirt.
Tyrone Willingham never turned his on. "I would just sit there going through formations and manipulating things on the field," he recalls. "Sometimes you don't know your destiny, but then you start looking at things and say, 'Maybe this is what I'm supposed to do.' "
Willingham's destiny has taken him from his North Carolina roots to the playing fields of Lansing, Palo Alto and South Bend. Along the way he became a pioneer for African Americans hoping to coach college football, as he headed teams at Stanford and Notre Dame. Now Willingham is the University of Washington's new football coach, where he will have to lead nearly 100 student-athletes in a program that just finished the worst season in its 115-year history.
The turnaround is just one more challenge for Willingham, who's faced a life of overcoming the impossible. During the Civil Rights era, he was among the first African Americans to integrate his hometown school. He was the first black quarterback to start for his high school football team. Later he had to prove himself as a walk-on at Big 10 power Michigan State. During 15 years as an assistant coach, he wondered if he would ever achieve the goal of coaching his own team.
But there has been plenty of glory, too. His peers twice honored Willingham as the Pac-10 Coach of the Year (1995 and 1999). He was named Sporting News Sportsman of the Year in 2002, and when Sports Illustrated listed its most influential people of color in sports, Willingham's name was in the top 10. After he was fired by Notre Dame, Newsweek's popular "Conventional Wisdom" column gave the school a "down arrow." Others may focus on awards and accolades as levels of achievement, but Willingham draws on his inner strengths, not his résumé, to motivate his teams. "What everyone needs is a better mousetrap," he says, carrying the taut body of a man two decades younger and seated drill-sergeant-straight behind his desk in a still-barren office in the Graves Building. "If you give me a better mousetrap, I'll buy it. If you teach me how to do what I need to do better, I'll listen. I'll invest in you just as you are investing in me." And that is what Willingham, 51, overachieving since his days as a 5'7" and 140-pound high school quarterback, told his new players after being named to replace former UW Coach Keith Gilbertson. "Let's be champions. Let's have great students. Let's be great people. And let's have a lot of fun in the process."
"When you identify those four things," he says, "I think that's what every kid wants. I can provide the right example for them and help them create that model." So when UW President Mark Emmert assembled the profile of what his next football coach should have—integrity, character, discipline, excellence and loyalty—one of the top candidates wasn't available. Tyrone Willingham was wrapping up his third season as head coach at the University of Notre Dame, finishing the 2004 season 6-5 and preparing for a second bowl game in three years. Then, on Nov. 30, Willingham was fired. "When we began our search, if you had told me Tyrone would be available, I never would have believed you," says UW Athletics Director Todd Turner.
Rev. Edward Malloy, Notre Dame's outgoing president, took the unusual step of publicly criticizing his school's firing of Willingham. He thinks Washington made a good hire, recalling Willingham as a man of few words who tends to speak from the heart.
"Tyrone is a straightforward and self-possessed man who sees himself as a teacher and a character-builder," Malloy says. "Working in a college environment is perfect for him. He's the kind of person that people in the academy can relate to and be inspired by." Those inspirations are already working. The day after learning Willingham would be his new coach, UW quarterback Isaiah Stanback had already bought into the Willingham plan. "There are things he can teach me about football," said the sophomore, who will battle for a wide-open quarterback position when spring practice opens next month. "But there are also things he can teach me about life."
Willingham had the best teachers possible for life's lessons: his parents, Nathaniel and Lillian Willingham, who raised four children during the sixties in a racially charged South. She earned a master's degree in education from Columbia University and he left school after the fifth grade, but despite their differing backgrounds "they really were married until, truly, death took them apart," recalls Willingham.
Lillian was an elementary school teacher for more than 30 years, while Nathaniel was a property owner and landlord who, even into his eighties, never shied away from a hard day of work.
"What my parents taught me," Willingham says, "requires just one word to explain. Everything. They were the best coaches I've ever been around. They were the best people that I've ever been around. They were very different, but they had core values that were very much alike.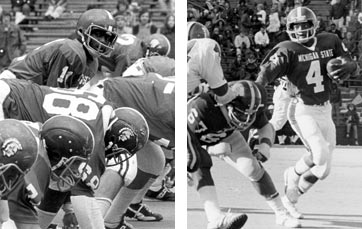 ---

At Michigan State Willingham played quarterback and wide receiver. Photos courtesy of Michigan State Sports information.

---
"They taught me to respect myself, to respect others, that hard work and being a team player were important. They believed in education and having a spiritual component to your life. They understood others, but they also knew how to balance the ups and downs of life."
The Willinghams were prominent members of the African American community in Jacksonville, N.C., a small community adjacent to the Camp Lejeune Marine Corps Base. Tyrone attended the segregated Georgetown High School, which covered all classes from first grade to senior year of high school. With no community center in the neighborhood, Nathaniel and Lillian offered the basement of their home as a gathering place for children.
"My parents sacrificed not just for their kids, but also for the betterment of our community," Willingham recalls. "They truly believed in the greater good. This was not about self, but about the community, our country and this world." Nathaniel gave away vegetables from his garden, trained himself to be a contractor and built the local Masonic lodge. Lillian was such a local fixture that she has been memorialized with a park, as well as the L.P. Willingham Parkway, which was developed as part of a neighborhood renaissance.
Together they infused in their children an unconditional belief in God and in the notion that people should not be judged by the color of their skin. But Jim Crow tried to trump that belief. Even though a white school was within walking distance of the Willingham home, Tyrone and his siblings were bused to the all-black school. It was at that school in May 1966—at the end of fifth grade—that Tyrone Willingham's world changed dramatically. On the morning of Georgetown's graduation ceremony an explosion destroyed the gymnasium that would have housed the festivities. Some speculated it was a bomb. Others said it might have been an accident caused by the school's boiler system.
"The powers that be never really told us what happened," says Willingham. "All we knew was that there was no more Georgetown High School, and the next school year we had full-scale integration."
Later that fall Willingham watched a football player on television that would be the catalyst for his own career, a black athlete from Fayetteville, N.C., named Jimmy Raye. The game was a match-up of the nation's top two teams—Michigan State against Notre Dame—and to this day it is regarded as one of the greatest college games of the 20th century. Raye started at quarterback for Michigan State and forged to a 10-0 lead, but the teams were so evenly matched, the game ended in a 10-10 tie.
"It was a significant moment in my life," Willingham says, "although I didn't know it at the time."
Go To: Page 1 | Page 2 | Page 3