March 2005 -
Alumni Visit Lawmakers; Honor Former UW VP
SEVERAL HUNDRED ALUMNI FROM THE UW AND OTHER STATE universities gathered in Olympia on Feb. 15 for Higher Education Day, a biannual gathering to talk to legislators about higher education issues and to honor those who support this cause in the state.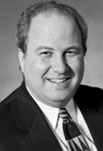 ---

Bob Edie. Photo by Mary Levin.

---
Alumni met with lawmakers to talk about such topics as the future of regional UW and WSU campuses, performance contracts for higher education institutions, and support for their campuses in the next state budget.
They also honored former UW Vice President for University Relations Bob Edie, who received the 2005 Robert Waldo Award for his 30 years of service to higher education in the state.
UW ALUMNI
in the 2005 Legislature
---
SENATE
Sen. Jean Berkey, '74, Everett
Sen. Luke Esser, '89, Bellevue
Sen. Darlene Fairley, '67, Bellingham
Sen. Karen Fraser, '66, Olympia
Sen. Ken Jacobsen, '72, Seattle
Sen. Stephen Johnson, '64, Kent
Sen. Cheryl Pflug, '79, Hobart
Sen. Craig Pridemore, '89, Vancouver
Sen. Tim Sheldon, '72, Hoodspoint
Sen. Paull Shin, '69, '80, Mukilteo

HOUSE OF REPRESENTATIVES
Rep. Gary Alexander, '66, Olympia
Rep. Maralyn Chase, '72, Edmonds
Rep. Frank Chopp, '75, Seattle
Rep. Hans Dunshee, '85, Snohomish
Rep. Ruth Kagi, '67, Lake Forest Fork
Rep. Joe McDermott, '97, Seattle
Rep. Jim McIntire, '83, '93, Seattle
Rep. Dawn Morrell, '95, Puyallup
Rep. Eric Pettigrew, '87, Seattle
Rep. Helen Sommers, '69, '70, Seattle
Rep. Rodney Tom, '85, Medina
Rep. Brendan Williams, '97, Olympia
A native of Minnesota, Edie began his public service career in 1975 in the state Senate where he served on the labor committee staff and as staff director for the Senate Ways and Means Committee. He came to the UW as its government relations director in 1986 and was instrumental in strengthening funding for higher education and in helping establish "branch" campuses. In 1996 he became vice president for university relations at the UW. At that time he was also a member of the Columns Advisory Committee and the UWAA Board of Trustees.
In 1999 Edie returned to Olympia to serve Gov. Gary Locke as a senior budget advisor and later as the governor's legislative liaison. In 2000, he joined the staff of Western Washington University President Karen Morse as the vice president for external affairs. He recently retired and lives in Kirkland with his wife, Susan, '94.
The Robert Waldo Award honors the memory of Bob Waldo, '46, who served the UW and higher education in many capacities during his career, including terms as dean of men, vice president for university relations and director of government relations.