March 2005 -
UWAA Launches New Program to Support Higher Education
About 70 percent of all graduates of the University of Washington live in the state. That means nearly 200,000 Washington citizens have a personal interest in how the state writes its next budget for higher education. Add to that 42,000 UW students and their families, and there is a huge group that cares deeply about the future of higher education.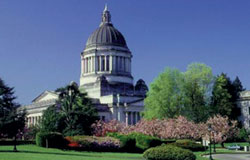 ---

Washington State Capitol. File photo.

---
Alumni surveys have found that UW graduates are very interested in legislation affecting their alma mater. In addition, one survey found that 96 percent voted in at least one election over a 12-month period.
Now these alumni, students and friends have a central clearinghouse that can keep them up to date on issues in the Legislature and help them contact their lawmakers. The UWAA has created the Huskies for Higher Education program that includes the Web site huskiesforhighered.org.
"The state and its next budget are crucial to the future of higher education," says UWAA Executive Director John Buller, '69, '71. "This new program gives our alumni the opportunity to participate in the political process."
At times in Olympia, the value of higher education to the state's citizens and economy is overlooked, he says. "Sometimes the asset is not understood," Buller explains. "We want to make sure that our alumni know what is going on in Olympia and to give them an easy way to have a voice in the process."
The Web site includes a guide to how citizens can contact their legislators. It also has frequently updated links to reports and articles about proposals in Olympia. In addition to the Web site, alumni can sign up for special e-mail alerts on issues crucial to higher education.
For more information about Huskies for Higher Education, go to the Web site huskiesforhighered.org or call 1-800-AUW-ALUM.