March 2004 -
FIRST TAKE
UW News from Across the Campus and Around the World
Husky Homemakers
We all know it takes more than an hour-long episode to perform the home transformations seen on ABC's Extreme Makeover: Home Edition. But it still takes hectic pacing, as several UW alumni found out when they "made over" a Kingston family's home.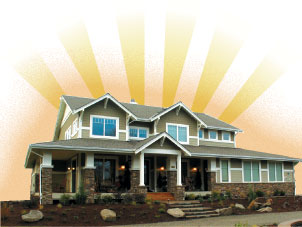 ---

Eight UW Alumni helped transform a fire-damaged Kingston house on ABC's Extreme Makeover: Home Edition. Photo courtesy of Centex Homes.

---
The episode, which aired in January, revolved around single mom Roseanne Dore and her three daughters, whose house had burned down. Centex Homes rounded up its West Coast divisions to Seattle to help. This included getting other companies, such as subcontractors and an excavating company, on board with a little charity work, says Rick Roney '82, who works in Centrex's estimating and architecture department. "I think they were very successful in getting many, many people to contribute."

Some of the other UW alumni who worked on the house through Centex are division president Doug Barnes, '80; Vicki Boddy, '82; Pete Caro, '89; Christy Fosmark, '03; Jeff McClaren, '95; Ashley O'Brien, '01; and Jennifer O'Ryan, '01. Roney jokes that as soon as he arrived at the work site, he found host Ty Pennington for an autograph.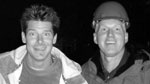 ---

Extreme Makeover: Home Edition Host Ty Pennington (left) with Centex Division President Doug Barnes, '80. Photo courtesy of Centex Homes.

---
Five days and 10 hours later, everything, from the foundation to the plasma TV was pulled together. Says Roney, "Seeing everyone's smiling faces at the end of a thing like this is always the most gratifying."
---
Lawn Ornament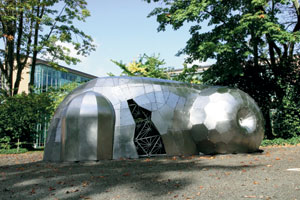 It's hard to miss the stainless steel sculpture in front of William H. Gates Hall these days. For those puzzling out the steel-plated structure, here's a cheat sheet: "The Department of Forensic Morphology Annex" is a playful reference to local artist Chris Bruch's two favorite buildings on campus, the Observatory and the Kirsten Wind Tunnel. It also refers to the study of morphology, which deals with form and structure. Fabrication Specialties Ltd., a South Park-based art fabrication company owned by three UW alumni, built the piece, which was commissioned by the Washington State Arts Commission and the UW Public Art Commission. Photo by Kurt Kiefer.
---
Win-Win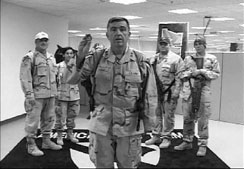 A videotaped coin toss kicked off the Nov. 13, 2004, UW home football game against California. In observance of Veteran's Day, Major General Peter Chiarelli, '80, executed the coin toss across the world in Iraq. Chiarelli is the commander of the 1st Cavalry Division and oversees security for Baghdad. Fifteen other college games started the same way, as did all NFL games that weekend. It was part of the U.S. Army's effort to have college and NFL football teams recognize troops in Iraq during Veteran's Week. Messages from the troops were included with the video.
---
"I want a masterpiece when I sit down to read—otherwise I could be meditating, doing kung fu, drawing, or doing something with my wife and kids." - English Professor and National Book Award author Charles Johnson, from an interview in the new book Passing the Three Gates: Interviews with Charles Johnson, edited by Jim McWilliams.
---
Class Act

Sheryl Lee Melber, '78, was understandably upset when she found that she lost her class ring at a rest stop while driving from a Pennsylvania funeral to her home in Michigan. But when a Connecticut man found the ring, he noted the initials, class year and "University of Washington" inscription. He contacted the UW Alumni Association's intrepid membership department, which tracked Melber down, reuniting ring and owner. By the way, there is another found class ring. A 1961 class ring turned up last June near Sloan Square in London, England. The owner's initials are engraved in the side of the ring, which is a male's ring. Contact us at columns@u.washington.edu and we will put you in touch with the finder.
---