March 2005 -
EXTRAS
Bob Moch: 1914-2005
Robert G. Moch, '36, former UW Alumni Association president and coxswain of the UW varsity eight that won the gold medal in the 1936 Berlin Olympics, died Jan. 18 at the age of 90.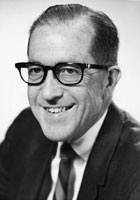 ---

Bob Moch. Photo by James Sneddon.

---
Though best known as the leader of the gold medal team that triumphed over Hitler's German team, Moch was a life long member of the UW community.
"The UW and other higher education institutions in this state are of tremendous benefit to our people, much more than is generally realized," Moch said in a report for the Washington Alumnu while he was UWAA president.
Moch was alumni president for the 1978-1979 academic year—while also serving on the presidential search committee that eventually selected President William P. Gerberding.
After graduating from the UW business school, Moch partnered in the Seattle law firm Roberts, Shelfman, Lawrence, Gay and Moch. But Moch's passion for crew never left him. In the late 1930s Moch was the UW team's assistant coach and later went onto to be head coach at the Massachusetts Institute of Technology.
Moch's 1936 teammate Jim McMillin remembers him half-whispering "I think we won" in front of an estimated 75,000 fans on shore of Lake Grunau, Germany.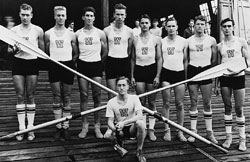 ---

Coxswain Bob Moch, '36, crouching at the center, was the leader of the Husky men's varsity eight that won the gold medal at the 1936 Berlin Olympics. Moch died Jan. 18. File photo.

---
A deafeningly loud Nazi crowd, a sick stroke leader and poor positioning started the Husky team in last place and left them there for much of the race. Both the German and Italian teams surged more than a boat length in front of the Huskies with 600 meters left when Moch started quickening the pace and called for successive, 20 power-stroke sets.
"I don't know where we got that last 20," McMillin said in an interview with the Seattle Times. Due to the loud crowd, Moch pounded his megaphone upon the side of the shell to set the pace as the "Husky Clipper" passed Germany, then Italy, winning gold by eight feet. In 2000 the Seattle Post-Intelligencer named the victory "The Sporting Event of the Century."
Moch is survived by his wife, Lavern, three children; Michael, Marilyn and Robert, three stepchildren; Michael Jacobs, Patricia Sabin and Sharon Alexander, 13 grandchildren and 21 great-grandchildren. Memorials are suggested to the Dick Erickson Scholarship Fund at UW and the George Pocock Rowing Foundation.
—James Fraser