March 2005 -
Briefings
UW Oceanographer Awarded $4 Million to Study Phytoplankton
Oceanography Professor E. Virginia Armbrust will receive $4.1 million from the Gordon and Betty Moore Foundation to expand her research of phytoplankton, tiny aquatic plants in the ocean that are crucial to Earth's climate and environment.
Last April the Moore Foundation's board approved a 10-year, $145 million Marine Microbiology Initiative to generate new knowledge on ocean microbial communities. Many in the oceanography community are comparing these grants to the famous Mac Arthur Foundation "genius" grants for their impact on research.
Armbrust's grant is the ninth awarded from the foundation's new campaign, bringing the campaign's total expenditures to just over $30 million. Armbrust's funding will be spread over the next five years.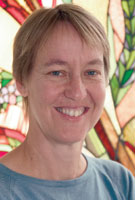 ---

Oceanography Professor E. Virginia "Ginger" Armburst. Photo by Mary Levin.

---
"Ginger is doing work that is absolutely fundamental to so many areas of ocean science and the ocean's impacts on our planet. This award will let her live the dream of all scientists, to truly follow her passion and ideas wherever they lead," says Ocean and Fishery Sciences Dean Arthur Nowell.
The foundation chose Armburst because of her innovative research into the genetics of phytoplankton—aquatic plants responsible for 40 percent of the earth's photosynthesis and thought to be a mediating force to global warming. The main goals of Armburst's research are the better understanding of genetic diversity, the ecology and human consequences of toxic blooms, and the molecular mechanisms underlying these tiny plant's physiology. Armburst earned her undergraduate degree from Stanford in 1980 and was a UW postdoctoral fellow in biology from 1990-1995. She is also co-director of the Pacific Northwest Center for Human Health and Ocean Sciences.
The Moore Foundation provides funding to outcome-based projects that will improve the quality of life for future generations by primarily focusing on science, the environment and higher education.
The scientist won her award for basic research, but said there could be some practical applications that might arise out of her work. Once the mechanics of smell are completely understood, it might be possible to restore a sense of smell to those who have lost it due to illness.