March 2004 -
The Early Settlers Used It for Log Flume and Then Turned It Into a Dairy Farm. Now UW Bothell Is Tackling the Biggest Wetlands Restoration Project in Our Regin.
Oblivious to thousands of cars zooming past the interchange of I-405 and State Route 522 in Bothell one sunny September afternoon, a great blue heron perches on a fallen cedar log in a marsh so close to the freeway you could almost reach out your car window and grab a handful of fuzzy cattails. On the lookout for a fresh fish lunch, the skinny heron with the 6-foot wingspan stands so still he is a gray, S-shaped statue.
The heron isn't the only creature taking his meals at this marsh these days. You are just as likely to spot beaver, deer, coyote, eagle, hawk, frogs and dozens of other species that, as little as a decade ago, were rarely found on this parcel of the south Snohomish Valley. That's because the land - once a lush forest of Western red cedar, black cottonwood, Douglas fir, big-leaf maple and red alder that was home to the Simump tribe of the Duwamish - had been denuded and degraded, turned into a cow pasture, disconnected from its flood plain and ravaged by invasive weeds, poor water quality and flooding problems.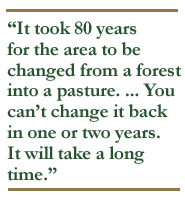 Today, these 58 acres of fragile wetlands on the campus of the University of Washington, Bothell, and its neighbor, Cascadia Community College, are beginning to look like their old selves again after undergoing the largest restoration of fresh-water wetlands in the Pacific Northwest. The goal was to return this land to its natural state, providing a home for wildlife in this increasingly urban area and leaving a living legacy for the future.
Ironically, the $7.2 million restoration project has been such a success to date that there have been some unexpected headaches.
"People want into the wetlands," laments Lyndon C. Lee, '83, a wetlands ecologist and president of L.C. Lee & Associates, a Seattle firm that is overseeing the project. "They love it to death. We want to keep it intact. Otherwise, we will be destroying it and turning it into a killing zone for many of the animals who have returned."
While access to the wetlands is heavily restricted, the marshlands are so wild and beautiful these days that people are itching to get in.
For instance, there was the time a well-meaning Eagle Scout wanted to help solve a vexing problem plaguing one particular building at UW Bothell - the nesting of more than 200 cliff swallows in the underside of the metal roof of the North Creek Café. The birds' presence has resulted in a massive problem with excrement covering many of the café's support poles, not to mention handrails and even the café balcony.
---

Small ponds or microdepressions built into the wetland act as natural filters for water that drains from higher elevations. Photo by Kathy Sauber.

---
The scout placed dozens of pine birdhouses on trees throughout the wetlands - a well-intentioned effort that turned out to be a waste of time because swallows won't live in birdhouses. They prefer something like an outbuilding, wetlands biologists say. (The problem of the swallows has yet to be resolved.)
There has been talk of building a bus overpass through the wetlands to connect the freeway to campus - something UW Bothell Chancellor Warren Buck says will never happen.
And there is increasing interest to use the wetlands as an outdoor laboratory. Indeed, the potential of having a natural lab at the university's doorstep has attracted many students and faculty to UW Bothell, and Buck calls the wetlands the "centerpiece" of campus. (Currently, college classes from UWB, Cascadia Community College and other Puget Sound-area colleges use the wetlands for "observational research" - that is, coming in to look at plant and animal communities and conducting such low-impact activities as measuring water and air quality.)
Go To: Page 1 | Page 2 | Page 3
---
Home / Current Issue / Archives / Talk Back / Advertising / Columns FAQ / Alumni Website / Search