March 2004 -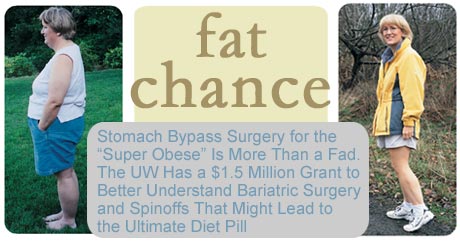 by Julie Garner
You probably don't know Nancy Douglas but you see people like her every day—at least the way she used to look in her former life. They are the ones who gasp for breath as they struggle up stairs, cram themselves miserably into too-small airline seats, and try to make themselves appear smaller as they block the aisle of a city bus. They are the 44.3 million American adults classified as obese by the Centers for Disease Control.
About 60 percent of the American adult population is overweight with 25 percent of those fitting into the obese category. Public health officials expect obesity to grow to 40 percent by 2020.
Obesity in America has gotten so bad that in 2002, the Internal Revenue Service classified it as a disease, making expenses related to its treatment-exercise programs, stomach surgery and commercial weight-loss programs-tax-deductible.
Douglas was part of this epidemic. The 42-year-old nurse at the UW Medical Center came from a family cursed with obesity. Douglas' problems didn't start until her early 20s, when she started packing on the pounds after college. By the time Douglas turned 40, she had been carrying an extra 100 pounds around for 15 years. More health problems-Type II diabetes and high blood pressure-followed.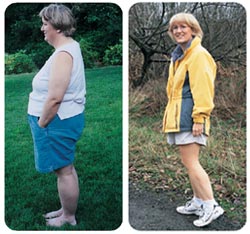 ---

Left: Nancy Douglas before her bariatric surgery. Right: Nancy Douglas today, after losing more than 100 pounds of bodyweight. Photo by Kathy Sauber.

---
"I tried Weight Watchers, Fen-Phen, Atkins and a liquid diet called Optifast. I did Optifast three times and it cost several thousand dollars every time, but I gained the weight right back," she recalls.
In desperation, she turned to a radical procedure that once rested on the fringes of standard medical care: surgery to reduce the size of her stomach. Once dismissed as "stomach stapling," this gastric bypass technique is now gaining acceptance among doctors and insurance companies.
Called bariatric surgery, its use is skyrocketing. Members of the American Society for Bariatric Surgery performed 63,100 operations in 2002, triple what they did just three years before. Since many non-member surgeons also do the procedure, health officials estimate 120,000 stomach bypasses were done last year.
When she turned to bariatric surgery, Douglas joined the ranks of celebrities such as NBC Today weatherman Al Roker and TV sitcom star Rosanne Barr. She now weighs 130 pounds and has no food cravings. She hikes and bikes and said goodbye to diabetes medication two years ago. Shopping is finally a pleasant experience. "I remember going to Nordstrom and bawling in the dressing room. I went from a size 3X to a size 6. Now I'm in the petite section," she says.
The loss of 100 pounds from the surgery has been what she calls "the hugest gift in my life."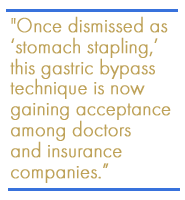 While the number of these procedures is rapidly rising, much about the effects of the surgery is still a mystery. Researchers say having a smaller stomach is only part of the reason for the loss of weight.
A new research project at the University of Washington, fueled by a five-year, $1.5 million federal grant, may help explain why the surgical treatment of obesity works on people like Douglas, determine who should be a candidate for the surgery and how the surgery affects chemicals in the body that suppress or stimulate appetite.
The National Institute of Diabetes and Digestive Diseases tapped the UW to lead the research effort in part because Surgery Professor E. Patchen "Patch" Dellinger has been performing bariatric surgery since 1978, when the procedure was in its infancy.
Go To: Page 1 | Page 2 | Page 3
Sidebar: Patch Work: Stomach Bypass Pioneer Dr. "Patch" Dellinger
---
Home / Current Issue / Archives / Talk Back / Advertising / Columns FAQ / Alumni Website / Search