March 2004 -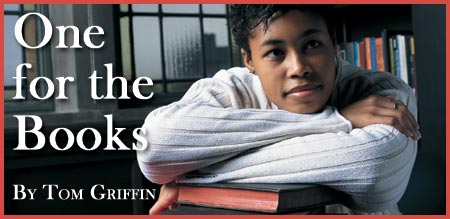 Rarified Air
UW Rhodes Scholars Since 1960
One was Bill Clinton's best friend at Oxford, another was the subject of an angry editorial in The Times of London. One presides over a media giant, another is a university official who moonlights as a poet and musician. Over the last 40 years, the University of Washington has seen at least 12 Rhodes Scholars among its graduating seniors, including three since 2000. Our records may be incomplete, but here is an update on those we've been able to track down.—Tom Griffin
---

Jack V. Haney, '62
Seattle
As a UW student, Haney faced History Professor Giovanni Costigan on one Rhodes screening committee and UW President Charles Odegaard on another. He impressed them all, winning a Rhodes Scholarship and spending two years studying Russian at Queen's College at Oxford. In 1965 he returned to the UW as a professor of Slavic languages and literature, where he taught for 37 years before retiring in 2002. He is the author of the six-volume text The Complete Russian Folk Tale. In 2001 he was named a Supernumerary Fellow of Queen's College, Oxford, in recognition of his contributions to scholarship, especially his work on Russian folk tales. Of his time at Oxford, he says, "I loved the camaraderie of the college. There are many fellow students that I am still in contact with."
---

William T. Kerr Jr., '63
Des Moines, Iowa
A native of Seattle, Kerr was the first person in his family to attend a university. He never considered applying for a Rhodes Scholarship, but legendary History Professor Giovanni Costigan noticed his name was missing from the UW nomination list. "He grabbed me one day in the hallway and said, 'Why don't you apply.' I'm grateful that I took his advice," Kerr recalls. At Oxford he studied medieval and Renaissance English history at New College and also met his wife, Mary. "We met at a sherry party and have been married 37 years," he says. When he returned to the U.S., Kerr began working on a Ph.D. in history at Harvard, but a summer experience in business changed his career goals and he transferred to the Harvard Business School. "I was considered a bit of an apostate to academe," he says. Kerr worked as an investment banker and a management consultant before the New York Times Co. asked him to join its management team. He was running that company's magazine division when Meredith Corp., publisher of Ladies Home Journal, Better Homes and Gardens, offered him an executive vice president's spot in their Des Moines headquarters. Today Kerr is the CEO of a $1 billion media giant that owns 16 magazine franchises and 13 TV stations. He credits both the UW and Oxford for his success. "The University of Washington had a tremendously formative impact on my intellectual awakening. Oxford magnified that," he says.
---
Frank Aller, '68
Deceased
A native of Spokane, Aller was a brilliant student of Chinese, recalls fellow Rhodes Scholar Jack Haney. "He was also one of Bill Clinton's best friends at Oxford," Haney adds. Aller was also a confirmed pacifist and became a Vietnam War draft resister. Because of Aller's convictions, Bill Clinton called him "one of the bravest, best men I know." In a 1970 letter, Aller wrote, "I hoped that the spectacle of young men refusing to fight would somehow 'move the conscience of America.' " He was arrested for his refusal to be inducted into the military but the case was later dismissed when physicians determined he was not fit to serve. Soon after that ruling, he committed suicide in September 1971.
---
Eric Dahl, '75
Athens, Georgia
Dahl grew up in Colville in the northeast corner of the state. An English major at UW, he attended Oxford's St. Peter's College, studying poetry, literature and linguistics. "At Oxford it was like the story of the sorcerer's apprentice. I was interested in writing poetry and wanted to read early poetry, so I explained to the Warden of Rhodes House, somewhat inaccurately, that I wanted to study etymology-the history of word meanings. I had no idea that he would arrange things so that my senior tutor was Robert Buchfield, the editor of the Oxford English Dictionary," Dahl recalls. While at Oxford, one of his poems, "The Tumbler," won the Isis Poetry Prize as the best short poem of the year. He returned to the UW to earn a Ph.D. in medieval texts in 1978 and then worked in the UW's Office of Research. Today he is associate vice president for research at the University of Georgia. "My job has typically been to tear apart complex problems, analyze situations, assimilate relevant ideas from other people who are smarter than me and try to achieve consensus about what makes sense—which is really not all that different from trying to understand multiply attested medieval manuscripts," he says. Out of the office, Dahl is a poet and a musician. He has released two CDs of his music: "Knack for Negligence" and "Whatever the Jungle." He also collaborated with UW Professor Jack Haney on the first English translation of a 13th century Russian poem, The Campaign of Price Igor.
---

Bror Saxberg, '80
Beverly Hills, Calif.
Saxberg, son of UW Business Professor Borje Saxberg, majored in electrical engineering and mathematics at the UW He also took pre-med and was the UW President's Medalist in 1980. At Oxford, he studied mathematics at Merton College. He then went on to earn a Ph.D. in electrical engineering and computer science from the Massachusetts Institute of Technology and an M.D. from Harvard Medical School-at the same time. "I wanted to understand how the visual system works. Altogether, it took me about eight years to get both degrees," he says. He spent five years at McKinsey and Company, an international management consulting firm, before he moved into education. He is now the chief learning officer of K12, a company that helps create "virtual academies" for learning and is active in about 12 states. "I'm what you call the learning architect. We figure out for each grade level the 'bones' of the operation. We look at ways to use books, computers, other media, adults and other students to make a real learning environment," he says. Saxberg says the scholarship changed his career goals. "People should be ready to engage the world and take on the hard challenges to really help," he says. "In my case, it's how to help kids get a great education no matter where they are."
---
Go To: Page 1 | Page 2 | Page 3
Rarified Air: UW Rhodes Scholars Since 1960: Page 1 | Page 2
---
Home / Current Issue / Archives / Talk Back / Advertising / Columns FAQ / Alumni Website / Search