March 2004 -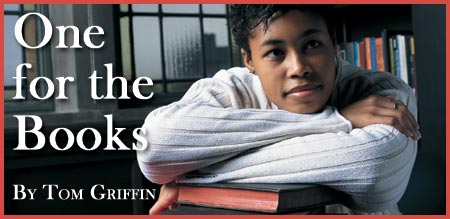 In Second Grade They Told Her That She Read Too Much, But Today Allyssa Lamb Is One of Only 32 U.S. Students to Win a Rhodes Scholarship to Oxford.
It seemed that every day the mail brought a new offer for Allyssa Lamb. Cornell, Bryn Mawr, Columbia, Oberlin—every school considering her application wrote back to say "yes." As an African American honors student in the top 5 percent of her high school class, she was in demand across the nation.
But the financial aid offers told a different story. Most schools required loans or work-study her freshman year. As the daughter of a single parent, she did not want to saddle her mother with debt. Facing the transition to a new style of learning, she also didn't want to work her freshman year.
Then there was the Bothell High School student's "backup" choice—the University of Washington just across the floating bridge from her Eastside home. The state of Washington offered her a "Washington Promise" scholarship if she stayed in state to study. Resident tuition would be only one-quarter of what the private schools were charging. She decided it would be best to live at home and attend the UW.
At Bothell High, the counselors put up a map for graduating seniors. Each was supposed to use a pin to mark his or her college destination. The staff was surprised when Lamb pushed her pin on Seattle. "I was disappointed to be going to the UW," she admits. "It was expected that I would be going somewhere more 'prestigious.' "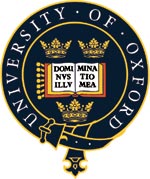 Just four years later, Lamb was facing another choice-where to attend graduate school. But this time the decision was made for her-she is one of only 32 U.S. college students who will be attending Oxford University this fall on a Rhodes Scholarship, the oldest and most prestigious international scholarship for undergraduates in the world.
Instead of battling traffic jams on the 520 bridge, she will be strolling down the cobblestone streets of the oldest university in the English-speaking world. While she won't miss the commute, she says she will miss the unique academic community at the UW that nurtured her.
"It has been an amazing experience. Obviously, I don't regret coming here at all," she says. "I've been able to work with an amazing group of people."
When Lamb applied to the UW in the fall of 1999, the school hadn't had a Rhodes Scholar in 14 years. When she got the news last November that she would be going to Oxford, she joined Emma Brunskill and Elizabeth Angell, UW students who won in 2001 and 2002 respectively.
She also joins former President Bill Clinton, former senator and NBA All-Star Bill Bradley, singer and actor Kris Kristofferson, NATO commander and presidential candidate Gen. Wesley Clark, former prime ministers of Canada and Australia, author Naomi Wolf, film director Terrence Malick, and a host of other Rhodes Scholars who have gone on to shape the world we live in.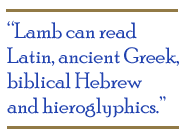 As a finalist among 963 nominees from 366 U.S. universities and colleges, Lamb will get two years of free tuition at Oxford. The Rhodes Trust will also pay her a stipend of about $30,000 a year for travel, room and board, and other expenses. There is an option to extend the scholarship for a third year.
An honors student (3.94 G.P.A.) with a double major in classics and in Biblical and ancient Near Eastern studies, Lamb can read Latin, ancient Greek, biblical Hebrew and hieroglyphics.
Once she breaks through her initial shyness, the 23-year-old can charm the stuffiest academic with her enthusiasm and knowledge. In an everyday conversation, she can jump from discussing her favorite history tome (Peter Green's 970-page account of Hellenistic history, Alexander to Actium) to analyzing Hollywood's casting of Brad Pitt as Achilles in the upcoming film Troy. ("It's horrible. He's too old. Achilles should be 17," she laments.)
Go To: Page 1 | Page 2 | Page 3
Rarified Air: UW Rhodes Scholars Since 1960: Page 1 | Page 2
---
Home / Current Issue / Archives / Talk Back / Advertising / Columns FAQ / Alumni Website / Search