The Way We Were: UW Seeks Alumni Memories
With more than 300,000 living alumni, there are more than 300,000 stories to tell about attending the University of Washington. The UW Alumni Association and University Libraries want to tap into alumni memories to prepare for a special autumn lecture series and exhibit on the history of the UW.
Did you meet your spouse on a blind date at the HUB? Did a professor's advice turn your career path into a new direction? Did you have to leave the UW to fight in a war? Did a particular book, performance or exhibit become a turning point in your life? Did you acquire new values-or go broke-while a UW student?
The UWAA and University Libraries are looking for memories of your defining moment at the UW. They are looking for recent alumni memories as well as those from many decades ago. To share your best moments, send a brief description to Memories, UW Alumni Association, 1415 N.E. 45th St., Seattle, WA 98105. You can also fax your memories to 206-685-0611 or e-mail them toUWmemory@u.washington.edu.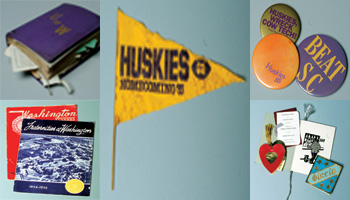 The text of selected memories will be displayed in an exhibit in Suzzallo Library this fall. In addition, Columns plans to print what the editors determine are the best memories in its December issue, and a Web site will also serve as a permanent repository for many memories.
This memory project will culminate in a lecture series featuring History Professor Emeritus Jon Bridgman, who will cover the history of the University of Washington in September and October. In conjunction with this series, Suzzallo Library will house an exhibit of UW historical items and memories through fall quarter.
The UWAA and University Libraries also need old UW photos, papers, manuscripts, exams and other memorabilia for this special exhibit. However, there are many items they are not able to accept, such as old Tyee yearbooks. Before donating any UW artifact, please fill out a form available at UWalum.com or contact the UWAA at UWmemory@u.washington.edu and we will send a donation form to you.
If we are able to accept your item, you can donate the artifact to University Libraries Special Collections, or lend it to us for the exhibit. For more information, visit UWalum.com, contact us by e-mail at UWmemory@u.washington.edu , or call 206-543-0540 or 1-800-AUW-ALUM.