Letters to the Editor
March 2004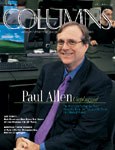 An Unforgettable Professor
Your article "Keeping Their Words" [Dec. 2003] stirred memories of my fall 1940 freshman anthropology class with Professor Melville Jacobs. I feel honored to have been one of his early students; particularly since I have read your history of his unique accomplishments and the value placed on the Melville Jacobs Collection in the UW archives.
… After 63 years I can't recall the names of many other professors, but Dr. Jacobs I've never forgotten. He encouraged my interest in languages and loaned me recordings he made of the Pacific Northwest Indian tribes.
Many of my classmates are gone now. I'll soon celebrate my 82nd birthday. It was a delightful surprise to discover your nostalgic report of these more innocent, pre-war days, when a learned professor could trust an 18-year-old student with his research. I credit his inspiration for my continuing interest in language and social concerns. Thank you for sharing.
Betty Wilson Thomas, '44
Desert Hot Springs, Calif.
Donor or Robber Brown
I was surprised to see Henry Villard (real name, Ferdinand Heinrich Gustav Hilgard) described in the December issue of Columns as being the "poor, teen-age son of German immigrants" ["The Donor Who Saved the 'U' "]. As I noted in my 1971 M.A. thesis describing one of Villard's companies, he came from an important family, his father being a jurist who rose to serve on the supreme court of Bavaria. After attending military school and graduating from the gymnasium in Speyer, Villard attended the universities of Munich and Wurzberg.
Upon arriving in the U.S., Villard worked as a teacher, newspaper reporter and editor, real estate salesman, news agency owner and immigration agent in addition to reading law. He was also elected secretary of the American Social Science Association and was active in the Civil Service Reform Movement. In addition, he showed an aptitude for corporate financiering, especially that of railroads and banks.
Later, after being elected president of a railroad, he helped friends form a syndicate to buy up various ailing railroads and allied properties as they ruthlessly sought to establish a transportation monopoly in the Pacific Northwest. The latter activities generally cause Villard to be included in the ranks of "robber barons" (albeit, a somewhat minor one) active during the late 19th century
Far from altruism, Villard's relatively small financial gifts to the universities of Washington and Oregon were intended to help attract new residents to the area where they would buy land from his companies and use his transportation facilities.
Gaylord Reagan, '70, '71
Omaha, Neb.
Dire Pontifications
I read with great interest the small article in the latest Columns ["Near-Record Enrollment for 2003-04 as Minority Percentages Rise," Dec. 2003] on the enrollment increase and minority percentage rise. Is this perhaps saying that all the dire pontifications that I-200 would be the death of the University are not really supported by the data? Perhaps there is some truth to what many of us have been saying all along, that is, intelligence is not a function of skin color, race, gender or whatever. I think the data should be the subject of a feature article. You will do that in the interest of academic honesty, fairness and balance, won't you?
David Fagerburg, '70
Kingsport, Tenn.
Final Counts
The article "Near-Record Enrollment for 2003-04 as Minority Percentages Rise" needs some clarification. From the statistics cited, African Americans, Latinos, American Indians and Pacific Islanders make up 8.97 percent of the UW's entering freshman class. You add that "38 percent of the freshman class are students of color." Who comprises the remaining 29.03 percent of the freshman students "of color"? And why are they not classified as "minorities" with the other four groups?
James G. Newbill, '53, '60
Yakima
Editor's Note: A little over 29 percent of the UW's entering freshman class are Asian Americans.
Sports Decontamination Chamber
Regarding the football monster ["Honor and Glory," Sept. 2003], this is a lovely little skirmish between the academics and the perpetual sophomores over what is important. I'll choose the gown because I think that is what we intended to get when we bought into public education.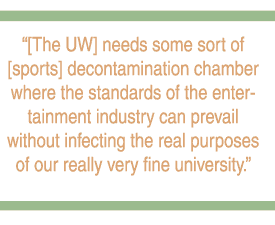 Is there some sort of compromise solution possible? We have seen universities insulate their ownerships in other business-type matters from the ongoing main show of academe. If the University of Wisconsin can segregate the profits of the Warfarin patents, why can't Washington do so with the mania of football? It needs some sort of decontamination chamber where the standards of the entertainment industry can prevail without infecting the real purposes of our really very fine university.
Wilbur Hallauer, '37
Oroville
Scams and Shams
Hip-Hip-Hooray, here, here, and all the other plaudits I can gather for the well-written letter by Bob Bajema, '69, '72, Shimonoseki, Japan, titled "Where The Buck Stops" [Dec. 2003]. I know he speaks for so many of us alums embarrassed by Barbara Hedges. His thoughts were expressed so eloquently and appropriately. We can only wish she reads it and heeds it.
I would only add that whoever further embarrassed the university, himself, and whatever "honor and glory" remains following her tenure--he who extended her contract-- ought to get on the same train out of town.
What a scam........what a sham!!!
Doug Batchelder, '74
Scottsdale, Ariz.
Selling Your Soul
Do you have editors who care how people come across to others? The quote from Bob Rondeau ["Air Force," Dec, 2003], a man who takes money and should represent the best ideas higher education can support about "that's the way it is," is a let down. [Rondeau said he understood why student-athletes leave college for the pros before graduating.]
I realize it was concerning athletes leaving early but it should get no one's attention but theirs. They are selling their souls for the current trading mechanism. In the past, even now and in the future, an education will be a precious commodity, especially to oneself. These young people who sell themselves out, don't need to find one dab of support for their liaise faire attitudes. "He would do the same" adds credence--like it was a good decision, even if it kills the hopes and dreams of parents and grandparents who couldn't have the lamb skin. What about brothers and sisters who are also a part of the family giving to accomplish the degree?
Barbara Cathey, '54
Colville