Andre Hayes
"Why don't you write a book?" UW Football Coach Don James asked former Husky football player Andre Hayes, '87, a decade ago. At that time, Hayes and former teammate Vincent Fudzie, '88, held workshops teaching student-athletes life and academic skills through the African American Athletic Alumni Association, a Los Angeles-based, non-profit organization. Books, James proposed, would reach high school students and help prepare them when they received athletic scholarship offers for college.
1996, Hayes and Fudzie self-published The Sport of Learning: A Life Skills Book for Student-Athletes. Harper-Collins published a revised and updated version in 2001, Your Brain is a Muscle Too: How Student-Athletes Succeed in College and in Life, which is also the workshop's title.
---

Andre Hayes, '03. Photo Courtesy Andre Hayes.

---
In the book, Hayes and Fudzie quote Malcolm X and Martin Luther King Jr., the Apostle Paul and Gandhi, Alexandre Dumas and Toni Morrison, expounding the value of education. Earvin "Magic" Johnson, who retired from the NBA when he was diagnosed as being HIV-positive, shares advice on safe sex.
In one chapter, Hayes advises student-athletes to speak "King's English" in academic settings while maintaining "Black English" in social circles. To minimize expensive long-distance calls, Fudzie suggests writing letters. "It will improve your writing skills, and your girl will love reading them," he explains.
Hayes experienced firsthand the academic problems often faced by student-athletes when he made the football team as a cornerback in 1981. "I didn't make studying my priority," he says. "My days and thoughts revolved around the football experience."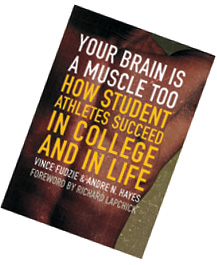 Consequently, he was placed on academic probation and attended North Seattle and Seattle Central Community Colleges to improve his grades. There, he contemplated his situation and realized he was wasting a tremendous educational opportunity. "Get your act together, or you're outta here," he said.

Coming back to UW in 1985, Hayes began to "enjoy the college experience" after his football career was over (he last played for the Huskies in 1985). His grades dramatically improved, and he graduated in 1987 with a degree in criminal justice. Hayes then taught social science for two years at his alma mater, St. Bernard's High School in Los Angeles, before becoming a teacher and curriculum writer for the Los Angeles Unified School District.

Hayes owes his values to his late mother, who sent him to Catholic school to shelter him from his harsh South Central Los Angeles neighborhood. "To live is to serve others," Hayes says. In his case, he teaches and writes "to change the landscape of student-athletes one step at a time."

br> -Lydia Ratna