FIRST TAKE
UW News from Across the Campus and Around the World
Taylor's Harrowing Tale
Taylor Barton, '03, didn't have the chance to live up to his billing when he arrived at the University of Washington as a junior in the fall of 2001. The nation's top-ranked junior college player in 2000, he backed up quarterback Cody Pickett for two years, never getting the chance to play.
Today, he is lucky to be alive at all.
Since the fall of 2001, he noticed blood in his bowel movements, and things got worse from there. He was diagnosed with ulcerative colitis in March 2002, lost a lot of weight and continued to have bloody diarrhea 10-15 times a day. He couldn't even keep water down.
Medication helped manage his condition, so he returned to play his senior season in 2002. He kept quiet much of the time-his parents, coaches and teammates weren't sure what was wrong although he didn't look right. He was determined to keep playing.
---

Former Husky Quarterback Taylor Barton, '03s

---
"I wanted to make sure I finished out everything at Washington," Barton says. "It would have killed me to quit football midway through my senior year. I knew it was a risk in terms of my long-term health, but at the same time, I wanted to make sure I finished what I started."
He underwent surgery last August to remove his colon, and soon hopes to have a colostomy bag attached so he can resume normal bodily functions.
Now recovering at home in Beaverton, Ore., Barton hopes to become a coach. Oregon State Coach Mike Riley - who recruited Barton out of high school in 1998 -has promised him a graduate assistant's job once he is healthy.
"It would be easy to say 'Why me? I don't deserve this,' " Barton says. "I look at it like God knew I would be able to handle everything that's been put my way and be a stronger person for it. I'll get there. I didn't come this far to stop now."
For information about the Taylor Barton Fund, go to www.helptaylor.com
---
A Historic Dustup
Excuse UW Astronomy Professor Donald Brownlee if he is bouncing off the ceiling these days. Brownlee, the primary scientist for the NASA Stardust mission, and his colleagues were ecstatic when a NASA spacecraft collected microscopic dust from the comet Wild 2 in a spectacular encounter the day after New Year's. In addition to collecting comet dust, the spacecraft transmitted 72 photos of the comet back to Earth.
Brownlee, who has worked toward a comet encounter for 25 years, says the success of Stardust "could prove to be a pivotal time for science, a remarkable opportunity to gather evidence that might actually tell us how the planets formed and give us clues about how life on Earth began." The Stardust mission will conclude when the spacecraft sends a capsule with the comet dust back down to Earth in January 2006.
---
Watered Truth
A recent health craze being peddled to us was oxygenated water. While one brand, Talking Rain, claimed that it adds oxygen to its water to enhance its taste, another, Aqua Rush, promised that its oxygenated water "has a faster diffusion rate than ordinary water and as a result hydrates your body more effectively." Some reported that the water "can be beneficial for athletic performance, prenatal morning sickness, energy and vitality, and headache relief."
Well, it turns out most of those claims are all wet, according to a study conducted by Neil Hampson, '77, '81, director of the pulmonary and critical care section at Virginia Mason Medical Center in Seattle. The study was published in the Journal of the American Medical Association.
For one thing, Hampson said it is not clear whether the body can absorb oxygen through the digestive system. And even if that were possible, oxygen is "very soluble" in water, so it is unlikely the level could be raised enough to enhance athletic performance.
"There is no information to suggest that a normal person benefits from getting more oxygen," Hampson said.
---
Eating Lower down the Food Chain
Next time you buy crickets for your pet lizard, grab some extras for yourself. With David George Gordon's Eat-A-Bug Cookbook in hand, you can whip up Chirpy Chex Party Mix, Chocolate Cricket Torte, Sweet and Sour Silkworm, and 30 other delectable bug recipes.
Gordon, a science writer for the Washington Sea Grant Program at the UW, got the idea for his cookbook when researching for his book The Compleat Cockroach, which is about the lives of cockroaches.
Noting that European culture (and by extension, U.S. and Canada) is the only "bug-deprived" culture in the world, Gordon started "challenging people about their food ideas." Insects, low in fat but high in protein and calcium, are nutritious substitutes for chicken, pork and beef, Gordon said.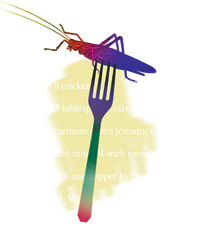 Since the publication of his cookbook five years ago, Gordon has toured through 28 states and Singapore to teach people about entomophagy, or bug eating. For more information about Gordon's book, From Soup to Gnats: The Essentials of Bug Cookery, visit www.davidgeorgegordon.com.
---
Soundbite