March 2004 -
If Dance Professor Hannah Wiley could have one wish, it would be to stage a famous dance called The Green Table by Kurt Jooss, a German choreographer whose work blurred the line between ballet and modern dance. Jooss created his expressionistic work about the origins of war in 1932, in the face of the Nazi menace.
The Green Table is "a timeless anti-war piece" and "one of the best dances I've seen in my life," adds Dance Program Director Betsy Cooper. Yet, it's unlikely to be staged at the UW because Jooss' daughter, who currently owns the rights, charges more than $100,000.
Compare that to the UW School of Drama, which pays as little as $375 for the right to do 10 performances of a play, and you can see why dancers are much less likely to get experience with the classics in their field.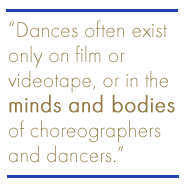 Many of those classics are just too expensive—especially for educational institutions—and some are unavailable at any price. Unlike theater or music, in which works are published and anyone able to pay a standard fee can get a script or score and do with it whatever they like, dances often exist only on film or videotape, or in the minds and bodies of choreographers and dancers. That means that in addition to charging a fee, choreographers or their heirs can require that their representatives be present to ensure that a dance is done the way they want it done.
Which makes it difficult to give young dancers anything more than book learning or, at best, a videotape viewing, when it comes to historical dances, a situation Wiley calls "unacceptable."
"A dance history course if useful, but it doesn't help you know the work kinesthetically," she says. "It's reading about the work. I played the cello in the symphony when I was here as an undergraduate, and we got to play Brahms. We weren't confined to reading about it."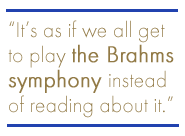 That's why the creative core of the UW Dance Program's Master of Fine Arts degree is the Chamber Dance Company—a group of graduate students that performs dances by well-known choreographers from Isadora Duncan to Mark Morris. Each year the CDC presents a concert that is entirely made up of these dances, often set by the choreographer or the choreographer's representatives.
"This institution is entirely unique in that there's this whopping great dance history experience that happens every single year," Wiley says. "It's living. It's as if we all get to play the Brahms symphony instead of reading about it."
Staging the concert has always been a challenge, as Wiley searches for important dances that are both available and affordable. The most logical starting point is the New York Public Library for the Performing Arts, which has a large collection of dance information—including videos of many modern dances.
Then there's the Dance Notation Bureau, where one can obtain the notated "score" of a dance for a fee, much as a musical score can be used for a fee. Notation systems meticulously reduce dance movements to symbols, but the process is time-consuming and expensive. As a result, only a fraction of all dances have been notated, and few in the dance world even read notation.
Go To: Page 1 | Page 2 | Page 3
---
Home / Current Issue / Archives / Talk Back / Advertising / Columns FAQ / Alumni Website / Search