Briefings
Family's Tradition of Giving Spans UW
Recent gifts from a distinguished alumnus will create an endowed chair in the Department of Construction Management and continue a family history of dedication to a range of University programs.
Contributions from Seattle contractor Palmer Koon, '33, will enhance the P.D. Koon Professorship in Construction Management in the College of Architecture and Urban Planning, an endowment he created in 1990 and has generously enriched over the past 13 years. Koon's recent additions to the endowment will take the professorship to the endowed chair level, the first-ever in the department and only the second in the history of the College of Architecture and Urban Planning.
"We've always wanted to help when we see a need and are pleased that the Department of Construction Management will benefit," Koon says. "The industry must do what it can to promote the trades and professional management skills if we are to maintain the expansion of the built environment in this region."
---

Palmer Koon, '33, in the office of his construction firm. Photo by Joel Levin

---
An additional gift benefits the Koon Family Endowed Fellowship in the Information School, which, since its establishment in 1991, has provided cash awards to 56 graduate students in the school's Master of Library and Information Sciences Program.
"The endowments, two of five created by Koon and his family, benefit areas of keen personal interest. A graduate of the College of Architecture and Urban Planning, Koon made his career in construction management as founder and owner of several prominent firms both in the Northwest and Alaska, including B-E-C-K Construction and MKB Contractors. His first wife, Evelyn, '31, and daughter, Karol, '70, '73, both graduated from the information school.
In addition to endowments in construction management and information sciences, the Koon family paid tribute last year to its connections to the School of Music and a family friendship with Music School Director Robin McCabe, '71, by creating the Bobbette Koon Endowment in Music Therapy, named for Palmer's second wife, who died in 2001.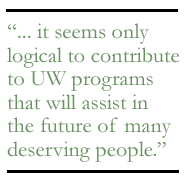 The endowment has allowed the school to offer a bi-annual course in music therapy and to plan for a potential future music therapy track and a permanent faculty position in music therapy. Bobbette also is memorialized in the Department of Intercollegiate Athletics, where the Bobbette Cosby Koon Endowed Golf Scholarship provides student support and pays tribute to her love of golf. Additional student support in athletics is made possible through the Mack Koon Endowed Tennis Scholarship, named for Palmer's late brother, a 1938 UW graduate.
The enduring nature of Koon's contributions will ensure that the University-and the Koon family-will continue to create more promising futures for students and the community for generations to come. "If a person is fortunate and has his future needs secure," says Koon, "it only seems logical to contribute to UW programs that will assist in the future of many deserving people."