ALUMNOTES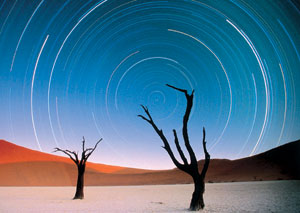 ---

This time-lapse photo of the evening sky is in Art Wolfe's new book, Edge of the Earth—Corner of the Sky. Photo courtesy Art Wolfe.

---
Harriet Waychoff Dunayski, '33
Tacoma, celebrated her 90th birthday with friends and family at her home in Tacoma. Highlights of the fall season are always her birthday celebration and Husky football, she reports.
Roy Stier, '40
Grass Valley, Calif., retired in 1991 after 38 years on the staff of the California Public Utilities Comm. He is a registered civil and traffic engineer
Carol Murdock Scinto, '48
Rockville, Md., was honored when the Women's Alliance for Theology, Ethics and Ritual named its collection of 6,000 volumes the Carol Murdock Scinto Resource Library in appreciation of her 16 years of volunteer writing, editing and helping acquire publications for the organization. Feminist scholars from around the world use the library for research projects.
George M. Martin, '49, '53
Seattle, was appointed to the Science Advisory Board of the Alliance for Aging Research. He is professor of pathology emeritus and director emeritus of the UW's Alzheimer's Disease Research Ctr. His research focused on genetic approaches to the study of aging and age-related diseases.
M. Dale Hazen, '50
Anacortes, retired in 1990 as VP and general manager of television stations owned by Retlaw Broadcasting. He now serves on board of the San Juan Preservation Trust, an organization dedicated to protecting this state's beautiful archipelago
Richard C. Wright, '50
San Rafael, Calif., and his wife, Marjorie, '51, had a grand Thanksgiving at home "with 24 people, three dogs and one cat in attendance," he writes. "Our 12 grandchildren were there as well."
Attention, Class of 1954
Your 50th reunion will be held during Homecoming weekend in 2004. If you are interested in serving on the Class of 1954 reunion committee, please contact Suzanne Mercier at the UWAA at 1-800-AUW-ALUM.
Daryl Brotman, '54
Newport Beach, Calif., has been a cartoonist, author, educator and audiovisual-television specialist. Brotman donated his autographed photo collection of presidents, congressmen and other public figures to the UW in 1979. Started in 1946, Brotman's collection includes photographs of every president since Hoover, many senators, vice presidents since John Nance Garner, secretaries of state since Cordell Hull, most U.S. Supreme Court justices since the 1930s, most other cabinet officers since 1933, and scores of governors since the mid-1970s.
Maxine Softky LeBeau, '54
McFadden, Wyo., began her 50th year in education with the 2003-04 school year. From 1954-57, she taught in Bellevue, followed by 27 years in McFadden, Wyo. Since her retirement from full-time teaching in 1984, she has been substitute teaching locally. She and her husband, Gerald, a retired rancher, continue to live on their family ranch.
Frances Copeland Stickles, '54
Chevy Case, Md., and her husband, Jack, '50, '52, met Doris Carlquist Halaby, '44, during the annual dinner of American Near East Refugee Aid in Washington, D.C., on Sept. 19 and then learned that they all attended the University of Washington. Halaby is a member of ANERA's Board of Directors, and Frances serves on ANERA's Advisory Council with Halaby's daughter, Her Majesty Queen Noor of Jordan.
Marjorie Palmer Passler, '58
Issaquah, an active DAR member for 26 years, was the "catalyst" which brought a DAR National Community Service Award to Elsie Dungan and the Maple Leaf Garden Club of Seattle. The club was recognized for 50 years of making patriotic evergreen wreaths for the annual George Washington Memorial Celebration and wreath-laying at the statue of George Washington on the UW campus. The award was presented Sept. 9, 2003 by Lisa Baer Fowler, a regent of the Rainier Chapter of DAR, Seattle.
Roy Peratrovich Jr., '57
Bainbridge Island, was the first Native American licensed as a professional civil engineer in Alaska. He designed Alaska's first all-steel, all-welded bridge and the country's first cable-stayed crossing. He later established the firm Petratrovich, Nottingham and Drage, which has earned numerous engineering excellence design awards. In the '80s, he helped found the Architects and Engineers Insurance Co. Upon retirement in 1999, he took up a lifelong love and founded Ravenworks Art Studio. He currently lives on Bainbridge Island with his wife, Toby. His three grown children and one grandson live in Anchorage.
Beverly Berg Fox, '59
Helena, Mont., lived and worked in San Francisco for four years after graduating from the UW. She then got married and "survived" in New York City for a couple of years. After getting a divorce, she earned a master's degree in theater and taught high school drama and English for 20 years. Now, she teaches a theater class at a local college and puts together a one-woman show with the working title, Dreams, Visions, Life and Death.
You must be a member of the UW Alumni Association to be listed in the Alumnotes section. To join, call (206) 543-0540 or 1-800-AUW-ALUM, or visit UWalum.com on the Web.
Keishi Echigo, '61
Seattle, retired after 35 years with Boeing. He was a principal engineer with the B-2 program and was named the employee of the year in 1987. He also was an engineer consultant with BF Goodrich and Messier-Dowty from 1996-2002.
John E. Milner, '61
Seattle, has been promoted to clinical professor of medicine at the UW School of Medicine.
William Edward Holly, '62
Port Orchard, retired from the U.S. Naval Reserve. A command evaluator at Bremerton Naval Station, Holly has spent 37 years working for the federal government. Now divorced, he is a great-grandfather of two.
Glenn K. Landguth, '63
Kirkland, retired from Boeing after 35 years, where he was a stress analyst. He plans to spend more time with family, especially his six grandchildren.
Suzanne Sweek, '63
Arlington, Texas, is a project manager with Schrickel, Rollins and Assoc., a landscape architecture firm helping develop the River Legacy Parks project that will link Fort Worth and Dallas with nature and recreational trails along the Trinity River. She is an active member of the Dallas/Fort Worth Husky group.
Robert R. Pankl, '67, '70
Seattle, is a librarian with the Tacoma Public Library, specializing in technical information.
Julie Weston, '67, '69
Hailey, Ind., was elected to the Frank Russell Mutual Funds Board of Trustees.
Robert Berkovitz, '69
Mesa, Ariz., is an incident meteorologist with the Natl. Weather Service. He has been with the NWS since 1969 and has been in his current position since 1977. At 61, he is the both the oldest incident meteorologist in the country and has been doing it for 26 years, longer than anyone else.
Larry Prescott, '71
Kirkland, started a general contracting firm called Interstate Construction Group. The firm specializes in general construction and construction management services for commercial projects including retail, office, warehouse, renovations and tenant improvements.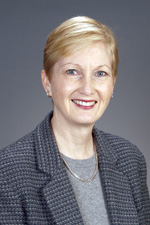 Bobbie Berkowitz, '72, '81
Seattle, was elected to a three-year term on Group Health Cooperative's 11-member Board of Trustees. A professor at the UW School of Nursing, Berkowitz is former deputy secretary of the state Dept. of Health and former chief of nursing for public health in Seattle/King County. Berkowitz is a fellow in the American Academy of Nursing and an elected member of the Institute of Medicine.
William Gladsjo, '72
Renton, retired in October after 45 years in education. Gladsjo and his wife have purchased a new motor home and plan to see the U.S. and Canada and build a home in Pahrump, Nev. They still plan to follow Husky football wherever they go. Their RV license plate is "HSKYBUS."
Joan Ellingsen Peterson, '72
Seattle, announces the third generation of a UW student from her family. Alexander Peterson, class of 2007, joins three grandparents—Mary Ellingsen, '50, Jack Peterson, '53, and Alice Peterson, '75,—and her father Kim Peterson, '82. There are also Husky "aunts and uncles and cousins galore," she writes.
Erick M. Davis, '73, '77, '85, '95
Seattle, is proud to announce that his daughters are following his UW academic career. Older daughter Megan graduated in 2003 with a B.S. in zoology. Younger daughter Katie is a sophomore at UW in the Middle Eastern studies. Davis continues as a consultant in the health-care industry, specializing in quality improvement and efficiency in financing and delivery of services.
Donna Landers, '74
Chandler, Ariz., is a lecturer and director of undergraduate academic advising in the kinesiology dept. at Arizona State Univ.
Otto M. Chase, '76
Everett, is pleased to announce the formation of a strategic alliance between his CPA firm and the 16 branches of Cascade Bank. His firm will provide payroll processing services for the bank's customers.
Penny Nieder Leopold, '76
Sun Valley, Idaho, sells real estate and commercial properties at Windermere Sun Valley. "Our move here two years ago has been fantastic! There are a lot of Dawg fans in the valley. Please give me a call whether you come to play or plan to move here full time," she writes.
David S. Engle, '78
Seattle, will be the project coordinator for a $2 million, three-year Dept. of Education grant to the Seattle Public Schools to support the implementation of small learning communities at Franklin, Roosevelt, West Seattle and Nathan Hale high schools.
Lydia Gaytan, '78
Seattle, is teaching second grade at Olympic View Elementary in Seattle. Gaytan was part of a group that worked on a water project in a remote village in El Salvador.
John Stillings, '78, '79,
Seattle, won a gold medal in the 2003 Pan American Games in the Dominican Republic as coxswain of the eight-man crew for the United States..
Samuel M. Shima, '79
Fresno, Calif., resigned after eight years as executive director of Rotary Playland and Storyland, a non-profit children's theme park in Fresno and started a new family business called Gymnastics Beat. Sam writes: "I admired past UW gymnasts Jim Holt, Dave Nakanishi and John Ying-Ling back in the 1970s. You guys inspired me to continue in this wonderful sport! Many thanks!"
You must be a member of the UW Alumni Association to be listed in the Alumnotes section. To join, call (206) 543-0540 or 1-800-AUW-ALUM, or visit UWalum.com on the Web.
Lawrence Kreisman, '80
Seattle, has been program director for Historic Seattle for six years and recently stepped down after eight years as the historian on the Seattle Landmarks Preservation board.
Michael Eshelman, '81
Seattle, and Robert Danforth, '77, own FSi consulting engineers, which recently moved to the Smith Tower in Seattle. FSi provides mechanical consulting services to King County Transit, State of Washington, federal government, Seattle Housing Authority, Boeing, FAA, UW and other clients.
Rosanne G. McCaughey, '81
Port Ludlow, retired in beautiful Port Ludlow after living 36 1/2 years in Bellevue.
Scott Fitzsimmons, '82
Seattle, is president of Zegrahm Expeditions, an adventure travel company operating small-ship cruises to the world's most remote places. Zegrahm is operating a voyage for UWAA tours to Melanesia and Micronesia in March.
Kathleen Weber, '82
Kirkland, has earned the Certified Investment Management Analyst designation through the Investment Management Consultants Assoc. Weber has worked at Smith Barney Citigroup as a financial consultant for 20 years.
Paul Hoffman, '83
Omaha, Neb., stepped down as the commanding officer of Fleet Ballistic Missile, Operational Test Support Unit Two at Cape Canaveral, Fla. During his 27 months in command, he oversaw the safe and successful launch of 19 submarine-launched ballistic missiles, and the completion of 32 special submarine navigation development tests. At his change of command ceremony, he was awarded the Meritorious Service Medal and the Military Outstanding Volunteer Service Medal. He now serves as the deputy inspector general at U.S. Strategic Command at Offutt Air Force Base.
Julia Schnebly-Black, '84
Seattle, co-authored The Rhythm Inside: Connecting Body, Mind, and Spirit through Music with Stephen Moore. The book is available in its second printing from Alfred Publishing.
Connie Coleman, '87
Seattle, has been an assignment and stock free-lance photographer for the past 15 years. Work has taken Coleman and her husband to live in Slovenia, Iceland, Germany, Latvia, West Africa and Croatia. Coleman's clients include Sunset Magazine and National Geographic Traveler. Her photographs have been represented in stock collections since 1990 and through Getty Images.
James Eflin, '87
Muncie, Ind., was awarded the AT&T Industrial Ecology Fellowship for 2003.
Mike Crowley, '89
Spokane, and his wife, Kay, have a 7-year-old son, Benjamin. Kay is studying law and hopes to take the bar exam in 2005. Mike has run his own real estate brokerage for 11 years.
Birke Duncan, '89, '97
Poulsbo, co-wrote his first book, The Troll Tale & Other Scary Stories, with Jason Harris. It is a required text in the UW Scandinavian department folklore courses and in a UW Bothell oral traditions class. Their second book, Laugh without Guilt, will soon be ready for publication. As a member of the Seattle Story-Tellers' Guild, Duncan performed eerie tales in theaters and schools in Seattle, Kitsap County, Chimacum and on the KUOW talk show, "The Beat," with Dave Beck.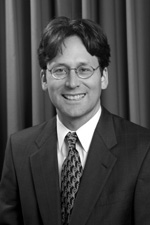 Bob Ferguson, '89
Seattle, was elected to the King County Council last November. The former ASUW president defeated a 20-year incumbent by personally knocking on more than 20,000 doors in District 2, which includes the University District.
James S. Staples, '89
Great Falls, Mont., has "a beeper welded onto [his] ever expanding waistline" ever since his graduation from UW medical school. Upon completion of his residency at Oregon Health Sciences Univ. in 1983, he set up practice in Great Falls, where he has been ever since. Highlights of the past decade include official board certification, home ownership, his "fabulous" wife, Gail, and, their "greatest blessing"—son Riley James.
David J. Sylvester, '89
Bothell, and his wife, Jung, announce the arrival of their daughter, Caitlin, on July 14. He is in his 14th year working for the Seattle Police Dept., and is a police diver in the Harbor Unit. He has also volunteered the past 10 years as a science diver for the Seattle Aquarium.
You must be a member of the UW Alumni Association to be listed in the Alumnotes section. To join, call (206) 543-0540 or 1-800-AUW-ALUM, or visit UWalum.com on the Web.
Gladys B. Amundson, '90
Walnut Creek, Calif., teaches second grade at Walnut Acres Elementary School in Walnut Creek. "During my last trip to Seattle, I left something very dear to me—my daughter. Casey is a freshman at UW and absolutely loves it," she writes.
Tiffany DeGross-Coleman, '90
Mill Creek, teaches at Snohomish High School and is earning a second master's degree in guidance counseling. Her husband, Alan Coleman, '91, works for King County's TV station as a producer and production specialist.
James C. Metzger, '90
Concord, Calif., keeps busy with the Red Cross.
Jonathan D. Gerson, '90
Seattle, just celebrated his 14th anniversary with his partner, Ernesto.
Sean G. Hyatt, '92
Studio City, Calif., married Kareth Parkes Hyatt, '91, in 1998 and moved to Los Angeles in 1999. Sean graduated from the Marshall School at USC with an M.B.A. in 2001 and is currently the development manager at AMCAL Multi-Housing, a developer of affordable housing in California. Kareth is pursuing her acting career and is a full-time mother. In July 2003 they welcomed the newest Husky in the family, son Hunter.
David Kerr, '92, '94
Seattle, and wife, Merissa Goldstein, '93, are pleased to announce the birth of their second child, Allison Diana, on Aug. 20. David is a project director and biostatistician at Axio Research Corp. Merissa celebrated her 10th year as a retirement consultant at Merrill Lynch/Howard Johnson.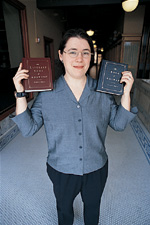 Carol Bolt, '94
Seattle, published her fifth book in her Book of Answers series: The Soul's Book of Answers. Drawing on the wisdom of established spiritual traditions, her latest book addresses open-ended questions concerning moral conflict, a future event, or simply a context in which to face the day.
Anthony Miranda, '97
Madrid, Spain, is serving overseas as third secretary, vice-consul at the U.S. Embassy in Madrid, Spain.
Tonya Surface, '98
San Gabriel, Calif., started TN'T productions, a swing dancing business, with fellow UW alumus Theo Davis, '98. Surface now runs her own business called Jitterbug Club Productions and puts on Camp Jitterbug and Jitterbug Weekends, the largest Lindy hop events in the Seattle area. Surface and Sean Morris, her fiancČ and dance partner, teach Lindy hop workshops in Seattle, Vancouver, B.C., Los Angeles, Boston, Honolulu, Albuquerque, Houston, and Australia.
Karin Heusted, '99
Bothell, and her husband, Dennis, a graduate student at the UW School of Nursing, announce the birth of their second baby, Alyssa Kay, on Aug. 21. Alyssa joins big sister PJ.
Mary Molosean Goetz, '99
Huntington Beach, Calif., moved to Southern California with husband Joel and baby daughter Gina to take a new job as corporate internal auditor with Boeing.
Alyn Q. Woods, '99
Denver, Co., is in his residency in Colorado pursuing a career in interventional radiology.
AlumnotesCorrection
We goofed in the December issue when we published an alumnote about Kristin N. Cooley, '98, who is actually Kristin C. Cooley, '98. We accidentally confused her with Kristin N. Cooley, a 1995 UW graduate. What should have run is this: Kristin Nicole Cooley, '95, Seattle, and her husband, Jason, announce that their daughter, Noelle Diane Cooley, was born Aug. 28. "Mom, Dad and baby are doing great," she wrote. Columns apologizes for the error.
Jay Gomez, '00
Seattle, works at Ernst & Young.
Krista Nichols, '00
Santa Cruz, Calif., and his wife, Kimberly, '00, are real estate agents at Bailey Properties. Jay, a former Husky soccer player, coaches soccer at UC Santa Cruz, Santa Cruz High School and a youth boys team. Kimberly, a former Husky swimmer, coaches the Santa Cruz High School swim team. Their Web site is www.santacruzin.com.
James P. Woodard, '02
Chula Vista, Calif., participated in Ulchi Focus Lens while assigned to Marine Air Control Squadron Four, Marine Corps Air Station in Iwakuni, Japan. Ulchi Focus Lens is an annual, combined, joint computer-simulated command post exercise held in South Korea and involves the Republic of Korea and U.S. Armed Forces.
Matthew K. Gagnier, '03
Pensacola, Fla., completed Officer Candidate School at Naval Aviation Schools Command in Pensacola, Fla. Gagnier was instructed on specialized subjects including navigation, ship handling, engineering, naval warfare and management.
Rebecca Kinney, '03
Moraga, Calif., is a traveling consultant for Kappa Kappa Gamma fraternity. Kinney will visit more than 30 collegiate chapters of Kappa Kappa Gamma this academic year to aid in chapter organization and programming. Kinney was a Husky Host, a Pi Omicron Sigma member and a volunteer for the local congressional campaign. She was also Panhellenic chairman and member of the standards committee at Kappa Kappa Gamma.
Linda Klein, '03
Richmond, is an assistant university librarian in the Reference & Instructional Services Division of Eastern Kentucky Univ., where she serves as a liaison to the English Department and as First Year Initiatives Librarian.
Mark Pearson, '03
Edmonds, compiled and edited 58 essays for Europe from a Backpack: Real Stories from Young Travelers Abroad (April 2004). After backpacking around Europe, Pearson started collecting best backpacking stories from young people throughout the world. What started as a publishing project in a UW School of Business class grew to be the first book in Pearson Venture Group's backpack series. Shortly after graduation, Pearson contacted Martin Westerman, the communications lecturer who taught the class, to help select and edit the stories. The book can be purchased online at www.EuropeBackpack.com
You must be a member of the UW Alumni Association to be listed in the Alumnotes section. To join, call (206) 543-0540 or 1-800-AUW-ALUM, or visit UWalum.com on the Web.
---
Submit a Class Note
Tell us what major events have happened in your life: a new job, marriage, children, retirement, advanced degrees, you name it.

Submit an Obituary
Please let us know if a UW alumnus has died. Be sure to include date of death, place of death and age along with the UW class year (if known).

Update Your Records
Moving soon or know someone else who has? Let us know so that we can keep Columns coming to you.

Contact Information
Columns Magazine
1415 N.E. 45th Street
Seattle, WA 98105
Phone: (206) 543-0540
Fax: (206) 685-0611.
E-Mail: columns@u.washington.edu