Prelude
Matters of Life and Death
There is no avoiding the subject of death in an alumni magazine, although we usually consign it to our obituary pages. For Columns over the past 18 months, there has been a disturbing trend when obituaries needed to be moved into the news or feature sections of the magazine.
It started with a double whammy-the terrorist attacks of Sept. 11, 2001, followed one day later with the deaths of 16 UW alumni and fans in a plane crash in Mexico. In addition to interviewing families and friends of all 16 lost aboard that flight, we also had to track down the parents and friends of the only former UW student to die in the Sept. 11 attacks, Army Sgt. Maj. Larry Strickland who perished in the Pentagon.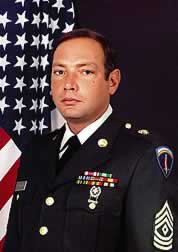 ---

Sgt. Maj. Larry Strickland. Army photo

---
Eight months later, the UW community suffered another blow when football player Curtis Williams died on May 6, 2002 as a result of injuries suffered in the UW-Stanford football game on Oct. 28, 2000. Curtis had just visited the UW campus a few weeks earlier and inspired everyone he met with his upbeat attitude despite the spinal injury that made him a quadriplegic. He celebrated his 24th birthday two days before he died.
On New Year's Eve, the Husky community almost faced another tragedy, when a rare heart condition threatened the life of women's basketball player Kayla Burt. But quick action by her teammates, who administered CPR, and the fast arrival of Seattle paramedics (including an alumna of the Husky basketball team, Michelle Perkins, '97) saved her life. It was with great joy that we scheduled that story to run as good news, not an obituary.
But on Feb. 1, any joy we felt was lost in the gut-wrenching images of the space shuttle Columbia breaking apart in the sky over Texas. As soon as the names of the lost astronauts were read by the TV announcers, I knew that we had lost a UW alumnus-Michael P. Anderson, a 1981 graduate in physics and astronomy.
---

Astronaut Michael P. Anderson, '81. NASA photo.

---
Associate Editor Jon Marmor had interviewed Anderson for a brief article in 1998, just after Anderson's first space mission. In the days following the accident, Jon was able to track down some of Anderson's old professors and fellow UW students. His memorial to Anderson runs on page 11 of this issue-the same page we used to run our Curtis Williams' memorial in June 2002.

Despite our sadness, these events should make us aware of the impact the University of Washington has on our world. Not only was Michael Anderson one of seven UW alumni who have been sent into space, but Space Shuttle Program Manager Ron Dittemore, has two degrees from the UW (astronautics and aeronautics, '74 and '75). So many members of the UW family-teammates, alumni who are paramedics, the doctors at UW Medical Center who operated on her-contributed to saving Kayla Burt's life. In matters of life and death, the UW is everywhere and touches all of us.

—Tom Griffin, Editor