Bay Area Huskies to Tour New Asian Art Museum
A tour of San Francisco's newly expanded Asian Art Museum and a lecture on Asian art history highlight a UW Alumni Association event in the Bay Area on Saturday, March 29.
The new museum, which is housed in the former Main Library in the San Francisco Civic Center, opens March 20 and is the result of a $150 million, three-year effort to restore and convert the historic structure, which was built in 1917.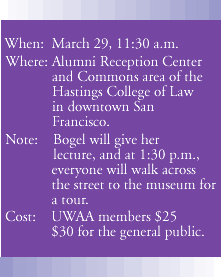 For 35 years, the Asian Art Museum has served as one of San Francisco's premier arts institutions. The museum has a permanent collection of more than 13,000 objects, spanning 6,000 years of history and representing countries and cultures throughout Asia.
UW Art History Professor Cynthea Bogel will give a lecture on the collection and Asian art. Bogel, an expert in Japanese art history, Buddhist art and Asian cultures, is the curator of the UW's Silk Road Project. Before joining the UW faculty, she served as the curator of Asian and ethnographic art at the Rhode Island School of Design Museum of Art.
The event begins at 11:30 a.m. with a reception and boxed lunch at the Alumni Reception Center and Commons area of the Hastings College of Law in downtown San Francisco. After lunch, Bogel will give her lecture, and at 1:30 p.m., everyone will walk across the street to the museum for a tour.
Cost of the event is $25 for UWAA members and $30 for the general public. To register, visit UWalum.com or call (206) 543-3839.
This event is just the first in a series of new programming aimed at UW alumni and friends living in the Bay Area. The best way to learn about the UW's Bay Area programming is to send your e-mail address to the geographic sign-up page at . If you would like to have a hand in developing programs for Bay Area alumni and would like to volunteer, please contact Karla Tofte at the UWAA at 1-800-AUW-ALUM or ktofte@u.washington.edu.