Moon Ki Hwang
age 23, senior,
Comparative History of Ideas and International Studies
I don't know if it was exactly my parents who encouraged me to go to college. I always thought I would want to get a higher education. I was born in South Korea and moved to the U.S. when I was 12. Ever since I could speak and walk, I have always wanted to go to school. When I was little in Korea, I would pack my backpack and books and walk to the elementary school by myself, but at the door they would always turn me around and bring me back to my mom. She still jokes about that.
My uncle immigrated to U.S. back in the early '90s. One year my parents decided to come here for my cousin's marriage and brought me along. After the marriage was over they left me in California, fearing that if I returned to Korea, I wouldn't agree to emigrate back to America permanently.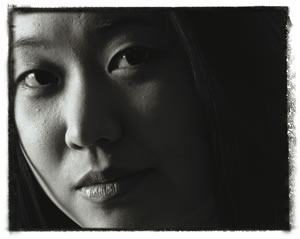 ---

Moon Ki Hwang, age 23, senior, Comparative History of Ideas and International Studies. Photo by Mary Levin.
---
When I came here, I did not know any English. I had to learn it in school. Because I had people teach me English, I wrote to the UW ESL department and they tried to set me up with students who wanted to learn Korean. I also joined Union Gospel Mission. Somehow, I am more sensitive about the issue of hunger, because my parents used to make me fast one day a year. That taught me what it's like to starve. So whenever I get a chance to do a community service, I am more likely to serve meals.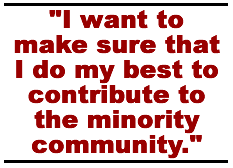 My future goal is to have a career in law and public policy. I want to take a year off from school to find a fellowship and actually get some work experience in the field. I already have done some work there. My sophomore year I went to Korea through the law school direct exchange program. There I researched "Korean Comfort Women." During World War II, Japanese soldiers abducted young women and used them as sexual slaves. I was trying to figure out why this issue was silenced in Korea until the 1990s. I have always been interested in women's issues and in Korean-American issues. I am choosing law because it is one of the most effective ways to change things. I want to do something with international human rights.
At the same time, after receiving the Gates scholarship, I want to make sure that I do my best to contribute to the minority community. I think law needs minority representation, especially because it plays such a large role in shaping American public policy.