Lorin Baker
age 21, senior,
Psychology and Pre-Med
About five years ago I moved to Seattle with my mother. During the same year both my grandmother and my mother got cancer. My mom was undergoing radiation to treat the tumor, so I couldn't be near her. She is doing OK now, but because of the treatment we ended up with a lot of bills. I went through many different high schools, while living with my grandmother and had to deal with my parents' divorce. A major setback was when my mother got laid off from Boeing during my senior year of high school. It was a year of major challenge, change and heartache for me. I lost my grandmother. I am proud of the fact that I was able to stay focused on my studies.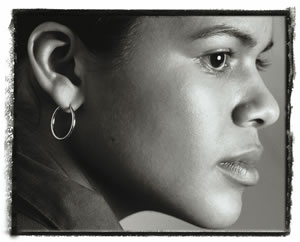 ---

Lorin Baker, age 21, senior, Psychology and Pre-Med. Photo by Mary Levin.
---
My parents expected me to go to school. They recognized that not everyone will go through college, but they did stress the importance of education. Because I received other scholarships before, I don't think that they were very surprised to see me receive the Gates. So in a nutshell, I think what helped me getting this scholarship was the difficult family situation, along with grades and volunteering.
My family was always active in the community, so I think that had a big effect on my volunteering. I volunteered for the homeless with my mom's friend, who goes out and feeds people on streets.
I also volunteered with Team Survivors NW, a support group for breast cancer survivors. I learned about it my freshman year and continue volunteering there to this day. Sometimes that could be difficult emotionally, especially when a person you know learns that the cancer has come back. But at the same time, it is comforting to hear the inspiring survivor stories and be a part of the caring and support team for these brave women. My experience with these women gave me real insight into what both my grandmother and mother experienced.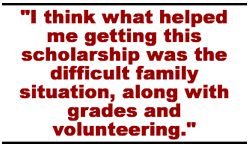 With regard to my future plans, I'm definitely interested in something that deals with the human body. I would like to do reconstructive surgery. Why do I want to be in the medical field? I don't see myself doing anything else. I know med school will be stressful. Both my parents were wary of my decision because they know what lies ahead, but they are supportive. Despite all the difficulties in my life, I graduated with a 3.8 from high school. I found out about the Gates Schloraship through my Equal Opportunity Program counselor and saw it on the news. It came at a very good time, as my major scholarship, which I received for graduating in the top 10 percent of my class, was over. My mother still is unemployed. Her debt burden due to surgical and medical expenses is still large. The scholarship is a real godsend. Without it I would be in a different place, where I would have to take out loans, which would be very difficult to pay, especially with my mother's medical bills.