Letters to the Editor
March 2003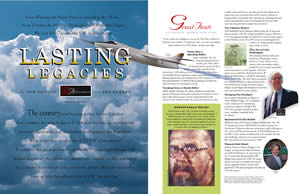 Our December 2002 cover story, "Lasting Legacies: 101 UW Achievements," prompted many readers to provide more information on the inventions, great feats, awards and institutional accomplishments of the UW community. Here is a list of corrections and additions to this list.
-Tom Griffin
Editor

In our list of UW alumni who have been awarded the Medal of Honor, we missed John D. "Bud" Hawk, '52, who was honored for preventing German tanks from breaking through Allied lines in Normandy in August 1944. In listing Pulitzer Prize winners, we missed James Wright, '54, '59, a student of Theodore Roethke, who won the 1972 Pulitzer Prize in poetry for his Collected Poems. Also, in the National Medal of Science listings, we included former UW Computer Science and Engineering Professor Richard Karp. While Karp was on the UW faculty when he received a 1996 medal, he has since left for the University of California, Berkeley.

When we cited the developer of CP/M, the first practical operating system for personal computers, we should have also listed Tim Paterson, '78, who wrote QDOS, the first version of MS-DOS. This is the operating system that IBM used to launch its personal computers and that made Microsoft the international software giant. At the time he wrote QDOS, Paterson was a repair technician for Seattle Computer Products, which sold QDOS to Microsoft for $50,000. Also, on our list of UW scientists who discovered fetal alcohol syndrome, we left off two researchers who were instrumental in developing screening methods for detecting this condition: Pediatrics Professor Sterling Clarren and Epidemiology Professor Susan Astley. On another item, UW alumni who were also crucial to the development of the Boeing commercial jet airplane included Louis B. Gratzer, '44, '68; Robert Larson, '49; Lynn Olason, '43; James R. Osborn, '49; Donald Schelp, '51; and George Snyder, '31.

While we noted that the Department of Mathematics is the top department in the nation for the number of times its faculty publications were cited in academic journals, we missed a more recent survey of journal citations for the years 1991-2001. Conducted by Science Watch magazine, the survey found that articles by UW faculty in mathematics, statistics and biostatistics ranked sixth internationally in the number of citations, and the UW ranked first internationally in the impact of these articles (as measured by the average number of citations per published article). The UW had the most faculty members on the list, beating out Stanford and Harvard.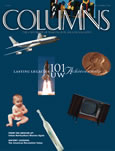 ---

Cover of December 2002 Columns

---
Honoring All Who Serve
I was somewhat surprised and disappointed in the December, 2002 issue regarding award winners from the University of Washington "Lasting Legacies, 101 UW Achievements" I graduated from the UW in 1952. I am also a recipient, or holder-not "winner"-of the Medal of Honor.
I have no quarrel with the selections made, and cannot even imagine how difficult the task has to be. However, if there is a limited group, exceptionally exclusive, it would seem that Medal of Honor holders who graduated from the UW, and numbering four, would be included.
I surely did not make a big mark at the UW; most noteworthy being my struggle to succeed. If I may be facetious: It only took me two years for World War II, but seven years to recover from wounds and graduate! You cannot convince me that only WAR is hell! The UW was very competitive, and seriously overcrowded with returning GI's. I was faced with wartime disabilities on top of trying to be a Romeo, breadwinner and student, all at the same time.
I did make it. I became an elementary school teacher, teacher/principal, and full-time principal for 31 years in the Central Kitsap School District in Silverdale and retired in 1983.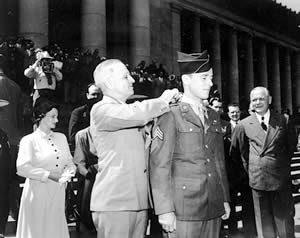 ---

President Harry Truman places the Medal of Honor around the neck of Sgt. John "Bud" Hawk in a ceremony on the steps of the state capitol. Photo courtesy Truman Presidential Library.

---
Notably, I did get the newly inaugurated President Harry Truman to come to Olympia and present me with the Medal of Honor on the steps of the state capitol in June, 1945.
I have been a supporter of the UW and alumni since graduation. I have also spent the last 57 years trying to emphasize that the medal stands for one thing: Honorable service in defense of our country. I have not, and do not consider the medal to be an individual thing or possession. It belongs, in part, to all who serve.
(Former) Sgt. John D. "Bud" Hawk, '52
Bremerton

Editor's Note: Although we contacted UW R.O.T.C. offices and the Pentagon when compiling our list, we did not know that UW alumnus John "Bud" Hawk had been awarded the Medal of Honor for his bravery during World War Two. Hawk was wounded on Aug. 20, 1944 in France when the German army was trying to escape its encirclement following the Normandy invasion. A portion of his medal citation reads, "Sgt. Hawk's fearless initiative and heroic conduct, even while suffering from a painful wound, was in large measure responsible for crushing two desperate attempts of the enemy to escape from the Falaise Pocket and for taking more than 500 prisoners."
Speeding Errors
I would like to correct the note in December Columns' "Great Feats" article regarding Scott Crossfield's feat. He was certainly the first person to fly at Mach 2 but to say he broke the world speed record at 1,320 mph) in 1953 is somewhat misleading. The absolute world speed record was captured by Peter Twiss in a Fairy Delta at 1,132 mph on March 10, 1956. This was by an aircraft that took off and landed under its own power and over a measured course. Crossfield's Skyrocket was merely dropped from a Superfortress. This would not count as a proper capturing of the record.
Michael Clarke, '72, '92
Redmond
Blimps and Waves
Robb Weller and Bill Bissell-inventors of The Wave-might have been inspired by stories of the 1963 Rose Bowl where Washington lost to Illinois on a hot New Year's Day in Pasadena. As the game wore on, fans accustomed to northern climates became increasingly uncomfortable under the unrelenting California sun. Mercifully, the Goodyear blimp moving overhead offered some relief. The blimp cast a cooling shadow that brought grateful cheers from fans, some of whom stood with arms raised to welcome the passing shade. As the blimp's shadow continued to cross from one end of the stadium to the other, the impromptu standing and cheering rolled along with it. Sound familiar?
John Dumas, '67
Portland, Ore.
Governors and Waves
The December issue of Columns rightly listed The Wave as one of the 101 outstanding UW achievements. However, I believe it actually originated earlier than the 1981 date indicated in your article. I remember participating in The Wave (or a version thereof) at a game in Husky Stadium during the 1972 season. It sticks in my memory because Gov. Dan Evans was present in the stadium that day. He came across the field to the student section during halftime to lead a cheer and commented on the visual effect of The Wave as seen from the other side of the field. I believe Robb Weller was the lead cheerleader at the time and assisted the governor in his temporary job as cheerleader. I'd be curious to know if others share my memory.
John Higgins, '72
San Francisco
Flying High
My late husband, James R. Osborn, '49, was one of the eight or nine men charged with the thrilling task of designing the Boeing 707 (Dash 80) in September 1952. He worked with Messrs. Pennell, Steiner, Sutter and Roundhill in that revolutionary concept ["Lasting Legacies, 101 UW Achievements," Dec. 2002] then followed with many trips abroad over the world helping the sales personnel to convince the air carriers that a commercial jet transport was a winner, and that the Boeing Company was the true pioneer. Other names, some of whom I am sure are UW alumni, are Lynn Olason, '43; David Norton; John Morries; J.K. Wimpress; Bernie Gratzer,'44, '68; Don Schelp, '51; Bob Larson, '49; and John Dorn. These gentlemen were an elite and proud fraternity of aeronautical engineers, honored to have served the Boeing Company and aviation. It was Jim's finest hour, beyond question. This issue was superb!
Janet D. Osborn, '48
Issaquah
Destroying Those Who Keep Us Afloat
I greatly enjoyed reviewing the contributions UW alumni have made to the world as we know it today. In your squib on the "Boeing Jet Airliner," you mentioned several prominent Boeing engineers who graduated from the UW aeronautical engineering department. I know almost all of them, as they were all good friends and co-workers of my father, George Snyder, who, also a 1931 graduate of the aeronautical engineering department, was longtime supporter of the aeronautical engineering department and the engineering vice-president on the 747 program during its design and initial production phases. He passed away October 30, 2002.
Dad served in numerous positions with Boeing from the time of the early flying boats through the years of World War II. He was deeply involved in the design of the B-17 and the B-29, and in the post-war era, was involved in the design of the B-47 and management of various jet aircraft missile and spacecraft programs. He also was a recipient of the University of Washington College of Engineering Alumni Achievement Award in 1995.
George M. Snyder, '60, '64
Huntington Beach, Calif.
Trailblazer but not a Legacy?
I was very surprised and disappointed to read in the December issue that [Athletics Director] Barbara Hedges was selected by the magazine as one of the UW's "lasting legacies." True, she is a trailblazer in being a woman heading a major athletic department. To be considered a lasting legacy the inquiry should go beyond gender. Her record as athletic director at the UW has been subpar, and that is troubling to this alumnus.
First, under her oversight the football team has become mediocre and the men's basketball team less than mediocre. Second, she has entered into a long-term, and now surely regretted, contract with [Football Coach] Rick Neuheisel in a year where he has been the state's more prolific repeat offender. Finally Coach Neuheisel ahs just been caught lying to his players, the press, the public and even Hedges regarding his seeking employment elsewhere. In response she has taken no action. Hedges is female, but she is not a lasting legacy.
David Jensen, '66
Vida, Ore.
Five Year Plan?
To Barbara Hedges: Normally, I would have been outraged at the continuation of the Building for Excellence Fund, since you said five years ago it would only last five years, and now you are continuing it. I wrote you a letter back then expressing my displeasure at the way the fund the fund was implemented, but you assured me, in writing, that it would only last five years. I knew back then, it would NOT last only five years. This is so typical of this athletic department administration, it hardly phases me.
I know of the athletic department's need to constantly upgrade everything, and if there wasn't an indoor practice facility, the program wouldn't be competitive. I will offer the same view point I did five years ago. I played on the 1981 and 1982 Rose Bowl teams. We won back to back conference championships with NO indoor practice facility. When it rained, we got wet. Now we have an indoor facility, and we are less competitive than we have been in several years.
You conveniently leave out a time frame for when this fund will cease. Is that so you don't have to ever justify again why it did not last as long as you originally said it would? Heaven forbid, Husky fans go the way of Arizona State fans. Here in Phoenix, they are lucky to get 55,000 fans a game. If they tried to establish a fund like this, it would be a laughing stock.
As I said earlier, normally I would be outraged. Given the arrogance of this administration, this is par for the course.
David Matthews, '88
Phoenix
Snobbish Remarks
I am writing in response to a December Columns letter to the editor written by a fellow Chi Psi, Ned Adams,[Adams said the only time Husky football star Hugh McElhenny visited the Suzzallo Reading Room was to get his picture taken by the Seattle Times.] Hugh McElhenny was my roommate and is still a good friend. Therefore, I didn't appreciate Adams' uncomplimentary, snobbish remarks about Hugh, one of the most generous individuals I've ever known. He was also a talented artist. He and I decorated our room with a mural that covered the walls. His artwork was superior to mine-and I was the art major.
Charles C. Wynn, '52
San Rafael, Calif.
Employable Graduates
A letter by Garrison Greenwood published in Columns in the September 2002 issue states: "Go take a look at the Sunday Seattle Times and count the number of want ads that say 'degree in women studies preferred.' … The material they studied has no relevance to any company's line of work."
As the chair of the UW Department of Women Studies, I am acutely aware of the need for our graduates to be employable. I am also acutely aware of the societal need for committed, intellectually aware and thoughtful citizens. Each year we graduate 20-25 students. Among the positions our recent graduates have held: a member of the Seattle City Council; legislative aides, both in Olympia and in Washington, D.C.; a fellowship recipient working on rural health policies with the U.S. Department of Health and Human Services; a detective with the Seattle Police Department; several staff at the Wing Luke Museum; a videographer with the Desmond Tutu Peace Foundation; students who have gone on to attain degrees in nursing, medicine, law, public health; a number of lawyers; employees at the UW in research and social policy centers. A recent recipient of the UW Distinguished Staff Award is a women studies graduate.
Our graduates also include both volunteers and paid workers at social service organizations, a local women's health clinic, a drop-in center for lesbian and gay youth, homeless shelters and organizations that serve those affected by domestic violence. Through an internship and now permanent position with the U.K. Women's National Commission, one of our recent graduates is working with the heads of all of the major women's organizations in the U.K.
The UW offers studies in a vast array of substantive areas. Some of these have obvious utilitarian value. Some don't. "If we direct our youth only to the former, we do away with history, philosophy, literature and other 'non-vocational' programs," to quote one of our doctoral students. A broader educational focus generates an informed, committed citizenry. As one of our current majors summarizes the merits of a degree in women studies: "All of my understanding about human rights, equality and the suffering of people around the world, I learned in women studies." What more could we, as a department, an institution of higher learning, and a concerned citizenry, hope for?
Judith A. Howard
Chair
UW Dept. of Women Studies
Scholarship Legacies
As the first recipient of the UW Alumnae Carrie Cowgill Thompson scholarship in 1951, news of Lucile Thompson's death brought back memories of her mother ["In Memory," Dec. 2002]. Carrie was a wonderful mentor during the four years I held the scholarship named for her, and was delighted when, following in her footsteps, I was initiated in to the Tolo Chapter of Mortar Board. Though not a wealthy woman, Carrie insisted on paying my Mortar Board initiation. How fitting there are now two scholarships named for the Thompson women.
Naomi Kahan Strauss, '55
Tigard, Ore.