Being one of the veteran student tour guides for the UW is a dream job for Jackie White. Even if the weather is rainy, she loves taking prospective students and their parents on a 90-minute walk through one of the most beautiful campuses in the country.
"When the mountain is out, people stop and say things like 'Wow!' or 'I can't believe you have a view like that,'" she says. "They love the Quad. Even when the cherry trees aren't blooming, it is a magical setting."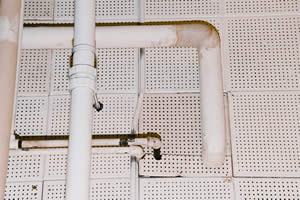 ---

Water leaks have damaged ceiling tiles and pipes in Johnson Hall. Photo by Kathy Sauber.
---
But when White takes her group through the Quad, she is careful not to show off another side of the UW. On the north side of one Collegiate Gothic building-Savery Hall-you can see paint flaking off the cast stone panels. If you look very closely, you can see that the 86-year-old gargoyles are covered with green, slimy algae and that the mortar between the bricks is wearing away. If you had X-ray vision, looking at the building's structure would reveal an ancient support system that could fail in an earthquake.
Savery Hall is just one example of the UW's aging infrastructure. Beneath the architecture that makes the University of Washington so gorgeous hides a dirty secret-many of the older campus buildings are slowly falling apart and it is uncertain if the state has the will to save them.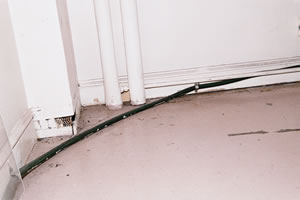 ---

J. Michael Brown, the chair of the Department of Earth and Space Sciences, must use a garden hose to deliver water at the correct pressure to his lab equipment in Johnson Hall. Photo by Kathy Sauber.
---
In the past decade, while lawmakers funded new buildings and some renovations, there wasn't enough money for maintenance and renewal of heating, plumbing and electrical systems. Seismic codes have changed due to new earthquake dangers (many discovered through UW research). The Americans with Disabilities Act has required elevators, wheelchair ramps and other necessary remodeling. Buildings that went up cheaply 40 years ago to serve the "baby boomers" now look like the generation they first served-sagging and in need of a facelift. To get everything right, UW officials estimate it would cost $1 billion over 10 years.
But you won't see signs of that decay on a typical campus tour. White gave more than 30 of them last year and she knows how to avoid the embarrassing spots. "I never take people inside Johnson Hall. It's not the greatest building," she admits. "We do skip over places like that."
Built in 1930, Johnson Hall lies northwest of Drumheller Fountain. Its lines follow the classic Collegiate Gothic architecture of central campus. There are warm brick walls with eye-catching patterns and even a crenellated tower like a medieval castle.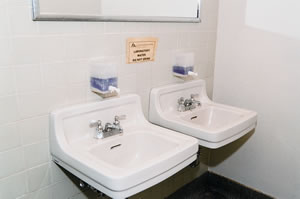 ---

A sign warns users that laboratory water has contaminated the supply of potable water in this Johnson Hall bathroom. Photo by Kathy Sauber.
---
But the inside seems almost medieval too. Classrooms in the basement feel like a dungeon with no natural light. Ancient fume hoods meant to vent toxic gasses are made of wood and lined with asbestos. Even the water belongs to another era-the old plumbing is so bad that the UW has removed most of the drinking fountains.
"I tell my faculty and students not to drink the water," says J. Michael Brown, '75, chair of earth and space sciences, the main department housed in the building. "It's colored when you turn on the tap. I won't drink it."
Tour guide White used to have a student job in Johnson Hall and says she's glad she got out. "I never drank the water," she recalls. "The ceiling wasn't doing so well on the fourth floor where I worked. You could see tiles were bulging."