Five years ago, Harborview Medical Center wouldn't even think of hiring nurses straight out of school. Internationally recognized for its work as King County's Level I trauma center, as well as the Pacific Northwest's primary hospital for treating burns, HIV/AIDS and diseases in the neurosciences, Harborview would only go for the most experienced, highly skilled nurses available.
Today, things have changed. The Seattle hospital currently has 90 rookie nurses on staff-10 percent of its entire nursing department. And in another move considered unnecessary five years ago, Harborview also covers loans for nursing students in exchange for having those students pay off their debts by working at the hospital.

The nursing shortage plaguing America-as of December, 126,000 nursing positions remained unfilled, according to the American Hospital Association-has forced hospitals and health-care organizations to drastically change their thinking as they cope with a crisis whose roots run so deep, many wonder if it will ever be solved.
"In the past few years," says Johnese Spizzo, Harborview's chief operating officer and former chief nursing officer, "the nursing shortage has just gotten worse. We don't know if there are enough people in the pipeline coming into the profession. So we had to change with the times."
Grappling with the effects of the nursing shortage has become one of the new focuses of the University of Washington School of Nursing. Long ranked the top nursing school in the nation for its research in such areas as aging, women's health, addiction, and the brain and public health, the school is now taking innovative steps to do what it can to reverse the disappearing act of nurses and nursing faculty.
Historically speaking, nursing shortages are really nothing new; there have been many ups and downs before. "But this one is different," declares Sue Woods, associate dean for academic programs at the school. "The population is aging, diseases are more acute, we have aging workers, and people are not choosing nursing as a career."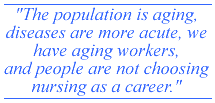 While the latter is definitely true, many top nursing programs, such as the UW's, have been turning away droves of potential students because of the lack of enrollment funding. And without more support for higher education-which won't happen any time soon, given the state's staggering budget deficit-nursing schools will have no choice but to continue shutting the door on prospective students.
Take the UW's acclaimed Bachelor of Science in Nursing program. Last year, the school received 305 applications for its 80 slots. (It expects more than 400 this year.) What hurts is that 90 percent of those candidates were qualified for admission. One current UW nursing student, Matt McNulty, applied three times before he was accepted. And that was despite the fact that he had a chemistry degree, as well as experience as an emergency medical technician, medical assistant and biology teacher.
"It kills us to turn away qualified students in light of the shortage," laments Carolyn Chow, the nursing school's recruiting and admissions coordinator.
The lack of nursing students translates into real problems in clinical settings. Matt Knight, a 29-year-old certified nursing assistant at Harborview, says he can work as much overtime as he wants. "There are always overtime shifts available," he says. Stephen Hopkins, a nurse at Harborview, knows that situation all too well. "Some nights we have enough people and it's great," he says. "Other nights, it's tough. You're running, and you don't get a lot of down time."