Briefings
Presidential Search Panel Named
The quest for a new UW president moved into high gear, as the Board of Regents appointed a 15-member advisory committee in November and hired the Korn/Ferry International search firm in January to help locate candidates.
Former President Richard L. McCormick left in November to become president of Rutgers University in New Jersey. At that time, the regents named UW Provost Lee Huntsman the interim president and set the goal of having a new president when the academic year started the following September.
The search panel has four alumni representatives, including the current vice president of the UW Alumni Association; two students; three regents who are also alumni; two faculty members; three administrators and one staff member.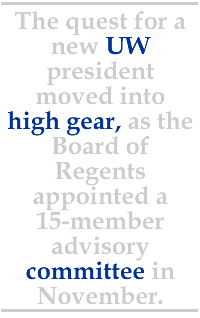 All alumni and the general public are welcome at two forums held this month. The UW Faculty Senate is holding a forum at 4 p.m. Monday, March 10, in 210 Kane. The Board of Regents will hold a forum featuring a panel of current and former university presidents at 4:30 p.m. Thursday, March 20, in 130 Kane.
Korn/Ferry is one of the largest recruiting firms in the nations and has conducted more that 80,000 senior-level searches since its founding in 1969. The firm has placed about half of the presidents currently serving at public institutions that are in the American Association of Universities, a prestigious group of 62 public and private research universities in the U.S. and Canada.
The regents also extended the committee's timeline from April to June, to allow the search committee to do a thorough job of screening the confidential list of final candidates.
In a statement, the regents said, "An important part of the process will be receiving input from friends of the University of Washington. We are interested in your thoughts and perspectives on the challenges and opportunities that will face the next president and the personal and professional attributes that will be essential for the next president to possess. The Search Advisory Committee would also be interested in nominations from alumni and friends of the University. All nominations, recommendations, and applications will remain confidential throughout the search process."
For more information about the UW presidential search, visit http://www.washington.edu/regents/search02/index.html or send e-mail to uwsearch@u.washington.edu.


Paul Ramsey, Dean, UW School of Medicine and Vice President for Medical Affairs; M.D., Harvard University, 1975.

Julie Stein, Divisional Dean of Computing, Facilities and Research, UW College of Arts and Sciences; Professor, Dept. of Anthropology; Ph.D. in anthropology, University of Minnesota, 1980.
Kristianne Blake, President/CEO, Kristianne Gates Blake, P.S. of Spokane, former member of the state Higher Education Coordinating Board; B.A. in business, UW, 1975.
Vicky Carwein, Chancellor, UW Tacoma; D.N.S. (Doctorate in Nursing Science), Indiana University, 1981.
Ark Chin, UW Regent, B.S. in civil engineering, UW, 1950; M.S. in civil engineering, UW, 1952.
William Douglas, President/CEO, Western Materials Inc. of Yakima, B.A. in business, UW, 1965.
Michael Garvey, President/CEO Saltchuk Resources Inc. of Seattle, B.A. in mathematics, UW, 1961; J.D., UW, 1964.
Sally Jewell, UW Regent, B.S. in mechanical engineering, UW, 1978.
Karen Turner Lee, Manager of Standards and Work Practices, Puget Sound Energy of Bellevue; Vice President, UW Alumni Association; J.D., UW, 1994.
Alexandra Narvaez, President, ASUW.
Tyrone Porter, doctoral candidate, UW Dept. of Bioengineering; Research Assistant, UW Center for Industrial and Medical Ultrasound.
Anita Ramasastry, Assistant Professor, UW School of Law, J.D., Harvard School of Law, 1992.
Steven V. Roberts, Program Support Supervisor II, UW Mailing Services.
Douglas Wadden, Professor, School of Art, and Vice Chair, UW Faculty Senate; M.F.A., Yale University, 1970.
Shelly Yapp, UW Regent, B.A. in economics, UW, 1967.