Briefings
Business Center Doubles Endowment,
Boosting Would-Be Entrepreneurs
Students enrolled in the UW Business School's Center for Technology Entrepreneurship will receive a greater return on their educational investment, thanks to recent leadership gifts that will add an endowed chair to the center's faculty, expand program offerings and increase the center's operating endowment.
A $2 million gift from Battelle Memorial Institute will strengthen the partnership between the business unit and Battelle, a technology development company, by establishing the Douglas E. Olesen Excellence Chair in Entrepreneurship, a position created to honor retired Battelle CEO and UW alumnus Douglas Olesen, '72.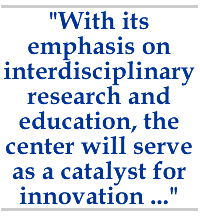 Additionally, a $500,000 gift from Wayne, '72, and Christine, '72, Perry supports the center's endowment, providing dependable funds in perpetuity for the unique program, founded in 1998 as the Program for Entrepreneurship and Innovation (see "Frisky Business," Sept. 1999). Wayne Perry, a graduate of the UW law school and chief executive officer of Oregon-based Edge Wireless, serves on the business school's advisory board and has been a tireless supporter of the program since its founding.
The Perrys' generosity is an example of the level of private support that has made the program the self-sustaining model of innovation that it is today. Through their gifts of financial assistance, individuals such as the Perrys and Saltchuk Resources Chairman Mike Garvey, '61, '64, and wife, Lynn, have surpassed the challenge set forth in 2001 when Neal, '64, and Jan Dempsey established the center's endowment with a $5 million challenge grant. In just two years and with contributions coming from friends, alumni, corporations and foundations, the endowment has more than doubled, with a current value of $11.5 million.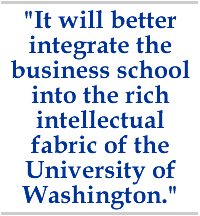 Offering courses in entrepreneurial strategy and marketing, new venture financing and entrepreneurship, the center brings together faculty and students from wide-ranging disciplines, including engineering, medicine, business and law. Students develop businesses around technologies emerging from UW research and interact with industry leaders to gain greater insight into the challenges of fledgling business ventures. Its advisory board comprises more than 30 industry professionals, including entrepreneurs, venture capitalists, attorneys, consultants and business strategists.
"With its emphasis on interdisciplinary research and education, the center will serve as a catalyst for innovation across campus and allow us to leverage the extraordinary resources of one of our nation's top research universities," says Business School Dean Yash Gupta. "It will better integrate the business school into the rich intellectual fabric of the University of Washington."