ALUMNOTES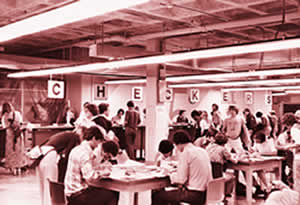 ---

Before the days of computer registration and the World Wide Web, students in this 1970s-era photograph sit down to fill out volumes of paperwork to register for classes. File photo.

---
Gordon L. Maurice, '43
Wilsonville, Ore., is co-director of cardiovascular research at the Earle A. Chiles Research Inst. at Providence Portland Med. Ctr. He is a clinical professor emeritus at Oregon Health Sciences Univ.
Janet Walker Van Kessel, '48
Sonora, Calif., writes to suggest publishing an article about the UW touring theater during the late 1940s.
Charles C. Wynn, '52
San Rafael, Calif., rowed in a double for the 12th time in the annual Head of the Schuylkill Regatta in Philadelphia, the world's largest one-day crew regatta with 5,000 participants.
Attention, Class of 1953
We need volunteers to join the committee that will plan your 50th class reunion during Homecoming Weekend Oct. 24-25. We need your help on what activities to stage and the best way to contact your classmates to attend the reunion. If you are interested in serving on the 50th Class Reunion Committee, contact Suzanne Mercier at 1-800-AUW-ALUM.
Fred Jessett, '56
Sammamish, a writer and retired Episcopal priest, has three true short stories in an anthology, Country Congregations, published by the South Dakota Humanities Foundation in 2002.
Gail Synoground, '57, '63
Spokane, was named the UW School of Nursing Distinguished Alumna for 2002. A leader in health-care education and health care for children and the disadvantaged, she was inducted into the Natl. Assoc. of School Nurse Academy of Fellows.
Roger V. Kelly, '58
Seattle, retired in 2001 after 24 years as partner and senior VP at Kennedy Associates, Inc. He is chairman-elect of Seafair through 2004.
Frank E. Supansick Jr., '58
Gardena, Calif., spends four weeks every year in Kona, Hawaii, and a month in Florida, visiting his brother Gail, '50. Retired after 15 years at Northrop-Grumman, he likes to watch Husky football games on TV.
Nancy L. Barker, '59
Gresham, Ore., began a new career in desktop publishing after retiring from being a college adviser. Her home business allows her greater flexibility to visit her sons, Evan, a jazz trumpeter in the New York City area, and Dean, co-owner of a Tacoma business, as well as her six grandchildren.
Donald Bolstad, '59, '62
Slidell, La., retired from Lockheed Martin after more than 30 years. He plans to return to the Pacific NW.
You must be a member of the UW Alumni Association to be listed in the Alumnotes section. To join, call (206) 543-0540 or 1-800-AUW-ALUM, or visit UWalum.com on the Web.
S. Walker Douglas, '61, '65
Seattle, retired from clinical practice in hematology-oncology and enjoys travel, music, digital photography and condo living.
William H. Foege, '61
Vashon, was honored with the establishment of the William H. Foege Fellowships in Global Health by the Bill and Melinda Gates Foundation. The new fellowship program will be housed in the Rollins School of Public Health at Emory Univ., where Foege holds an appointment as a Presidential Distinguished Professor. Honored for his work that eliminated smallpox from the world, Foege was the 1994 UW Alumnus Summa Laude Dignatus.
Dick Reiten, '61
Portland, Ore., retired as CEO of NW Natural Gas on Dec. 31 but remains as chairman.
Les Fosmire, '62
Selah, spends his retirement years volunteering and traveling with his wife of 46 years, Jeanine.
Richard W. Gregory, '62
Fort Collins, Colo., joined the Natl. Park Service in 1994 as chief of the Natural Resource Information Div. He assists parks inventories and monitors most critical natural resources.
Jim Lassoie, '63, '75
Spencer, N.Y., stepped down as chair of Cornell Univ.'s Dept. of Natural Resources on June 30 after serving in a variety of academic administrative positions since 1985. He will return to teaching and research related to international conservation following a sabbatical leave with the Nature Conservancy in China.
Arakere Vasudev, '63
San Jose, Calif., is president of the Indian Inst. of Technology, Kanpur Foundation, Inc. He recently retired from GE Nuclear Energy.
Karen Hanson Munro, '65
Olympia, was presented with the 2002 Washington Humanities Award, which she shared with her husband, Ralph. Karen was one of the original staff members of the Washington Commission for the Humanities, and later was a member of the board of directors for nine years, serving two terms as president. She was also on the board of the Natl. Federation of State Humanities Councils, and the President's Committee on the Arts and Humanities. Currently she is on the board of the Washington Wildlife and Recreation Coalition and the Orca Conservancy.
Charles Mitchell, '65
Seattle, was named chancellor of the Seattle Community College Dist. Since 1987, the former Husky football star had been president of Seattle Central Community College, honored as Time Magazine's College of the Year in 2002.
Keith Riffe, '65
Yakima, retired from Moss Adams and celebrated 40 years of marriage to his wife, Trudy. They have two grandsons, Noah and Carter.
Oliver B. Skanse, '65
Hagatna, Guam, teaches music in the gifted and talented education program in the Guam Public Schools. Now 78, he wonders whether he will ever learn the meaning of the word "retirement."
Larry A. Stuart, '66
Edmonds, takes pride in his four grown sons and a 37-year career at Boeing Information and Space Div., where he was a senior manager in supplier management.
Julie W. Weston, '67, '69
Hailey, Idaho, serves on the board of trustees of Frank Russell Mutual Funds.
Arthur T. Murray, '68
Seattle, is known as "Mentiflex" on the Web for his work as an independent scholar in artificial intelligence (AI). Through iUniverse.com, he has published an AI textbook called AI4U: Mind-1.1 Programmer's Manual.
Daniel Shannon, '68, '79
Chicago, is dean of the Graham School of General Studies at the Univ. of Chicago.
Wesley Balda, '71
Newberg, Ore., is professor of management and director of the M.B.A. program at George Fox Univ. Balda was previously employed as a professor at Pacific Christian College, Claremont School of Theology, Episcopal Theological School and Azusa Pacific University.
Sharman N. Ballantine, '71
Olympia, returned to the Pacific NW after 31 years on the East Coast working for the federal government. Her son, Brian, is a student at Virginia Tech.
Rick Crinzi, '72
Bellevue, was elected as an American Assoc. of Oral and Maxillofacial Surgeons trustee in the 6th Dist., which represents nine Western states.
Steve Kouchi, '72
Rancho Mirage, Calif., is director of revenue at the Westin Mission Hills in Rancho Mirage.
Howard Droker, '74
Seattle, is co-author of Family of Strangers: Building a Jewish Community in Washington State, published by UW Press with the Washington State Jewish Historical Society. His wife, Barbara, '70, is an editor in the UW Div. of AIDS-Related Research.
Earl Grout, '74
Seattle, chairs the advisory board of Deep Roots, Inc., a global charity that provides scholarship money for African students.
Minnie D. Anderson, '75
Indianapolis, retired as assistant professor from the family health nursing dept. at Indiana Univ.'s School of Nursing on May 31.
Jim Gramann, '75, '78
Washington, D.C., has been appointed to a two-year term as visiting chief social scientist of the Natl. Park Service. He is a professor of rural sociology at Texas A&M Univ.
David Engle, '78
Seattle, resigned as principal of Ballard High last spring but rejoined the Seattle Public Schools as a project administrator for school transportation.
Joseph E. Scherger, '78
Tallahassee, Fla., is dean of the College of Medicine at Florida State Univ., the first new medical school in U.S. in 20 years.
You must be a member of the UW Alumni Association to be listed in the Alumnotes section. To join, call (206) 543-0540 or 1-800-AUW-ALUM, or visit UWalum.com on the Web.
Robert Cottrell, '82
Fremont, Calif., is area service manager for DHL Worldwide Express' seven service center locations in the Bay Area.
Kimberley Lucas, '82
Washington, D.C., is an agricultural development officer with the U.S. Agency for Intl. Development and will be posted overseas after one month of training. She has worked in USAID's Africa Bureau for the past four years as a food security adviser and the Greater Horn of Africa coordinator.
Robert Seals, '82
Washington, D.C., was named VP of Marsh Consulting. He lives in Northern Virginia with his wife, Leah, and their three sons, Alex, 9; John Michael, 7; and Steven, 2.
Julia Schnebly-Black, '84
Seattle, co-authored The Rhythm Inside: Connecting Body, Mind and Spirit Through Music. The book has recently been translated and published in Japanese.
Kelli Mettler Bacher, '85
Eatonville, returned to Washington with her husband, Kevin, a park ranger at Mt. Rainier Natl. Park. They just purchased their first home and are the parents of David, 5, and Daniel, 2. Kelli returned to work as a school psychologist and is happy to be back in Husky country.
Paul Rafanelli, '85
Seattle, began his 10th season with the Seattle Symphony orchestra as second bassoonist. He also performed with the Seattle Opera, participated in Leavenworth's Icicle Creek Festival, and teaches bassoon at the Univ. of Puget Sound.
Merilee D. Karr, '88
Portland, Ore., started graduate school in the writing program at Portland State Univ. To pay for school, she works in an urgent care clinic.
Gwen Pressley, '88
Long Island, N.Y. , is a VP and financial center manager for Washington Mutual Bank's Sunrise Mall office in Massapequa.
Jim Staples, '89
Great Falls, Mont., is a board-certified anesthesiologist in Great Falls, where he lives with his wife, Gail. The highlight of their lives is their 3-year-old son, Riley James, and trips to Seattle for Husky football games.
Gary A. Strand, '89, '00
Sammamish, is senior VP at Bank of America, responsible for the small business banking group that covers Snohomish, Skagit, Whatcom and northern King counties. He and his wife, Susan, have two daughters, Emma and Abby.
Grant Murakami, '90
Honolulu, is a senior associate at PBR Hawaii, a planning and landscape architecture firm in Honolulu, where he resides with his wife, Nori, '90. He also is president of the Hawaii Chapter of the American Planning Assoc.
S. Lynn Erwin, '93
Eagle River, Alaska, is in-house counsel for a telecommunications company. She has a son, Trent.
Derek Doell, '94, '95
Anchorage, Alaska, and his wife, Angela, '93, welcomed daughter Darla Jeanette on Oct. 28, 2001. He is an engineer with CH2M Hill.
Kerry Baker, '95, '96
Bellevue, and his wife, Carol, recently welcomed twin boys to join their 2 1/2-year-old son. They live in the Tam O'Shanter neighborhood of Bellevue. Kerry works at T-Mobile USA.
Chris Hansen, '95
Seattle, is a sales manager for PayrollAmerica, a Web-based payroll company.
Thirza Krohn, '95
Aberdeen, is head of reference at the Aberdeen Library. She recently helped implement a centralized telephone reference service for the Timberland Regional Library System.
Kirsti Rochon, '95
Seattle, owns a local graphic design company that launched a Web site www.KirstiRochonDesign.com. She has done projects for such non-profit organizations as the American Lung Assoc. and the Juvenile Diabetes Foundation.
Jean E. von Bargen, '95
Portland, Ore., completed his master's degree at the Univ. of Oregon's Portland Program in Urban Architecture in June.
Grant E. Hartvigson, '96
Seattle, is a partner with Rainier Financial Group.
Shannon Cabilao, '97
Mililani, Hawaii, is a secondary special education teacher in Honolulu. He is also an assistant varsity football coach for Iolani High School.
Kori S. Voorhees, '98
Seattle, wrote the novel Christmas on Wednesday, an inspirational tale that explores the experience of a teenager leaving home for college. She also volunteers as an assistant coach for the UW women's tennis team. She lives with her husband, Colby, in Seattle.
Maureen Poole Atkins, '99
Mercer Island, is a corporate business manager for the Seattle Mariners.
Airra Dalmacio, '00
Seattle, is pursuing a master's degree in acupuncture and Oriental medicine.
Robert Evans, '00
Seattle, was the winner of the Sept. 2002 Columns Sweepstakes contest and received gift certificates to In-Spa and Chili's Grill and Bar. He works for Kemper Insurance and is the father of twin boys, Frank and George, who will turn 2 in May.
Sara Medford, '00
Seattle, is a sales associate with Windermere Real Estate's Ballard office.
Gretchen Moore, '01
Red Lodge, Mont., is a geologist with Stillwater Mining Co. In her spare time, she is a part-time snowboard instructor at Red Lodge Mountain.
You must be a member of the UW Alumni Association to be listed in the Alumnotes section. To join, call (206) 543-0540 or 1-800-AUW-ALUM, or visit UWalum.com on the Web.
---
Submit a Class Note
Tell us what major events have happened in your life: a new job, marriage, children, retirement, advanced degrees, you name it.

Submit an Obituary
Please let us know if a UW alumnus has died. Be sure to include date of death, place of death and age along with the UW class year (if known).

Update Your Records
Moving soon or know someone else who has? Let us know so that we can keep Columns coming to you.

Contact Information
Columns Magazine
1415 N.E. 45th Street
Seattle, WA 98105
Phone: (206) 543-0540
Fax: (206) 685-0611.
E-Mail: columns@u.washington.edu