As former Husky football player Curtis Williams strives to earn the final 30 credits he needs to complete his bachelor's degree at the UW, two roadblocks stand in his way. First, he will continue speech therapy to become more comfortable with his phrenic nerve pacemaker. Second, he needs practice with his voice-activated computer before he can take correspondence courses from his brother's home in Clovis, Calif., where he lives.
Fortunately, when these issues are resolved, the UW's nationally recognized Disabilities, Opportunities, Internetworking and Technology (DO-IT) program will be ready to help.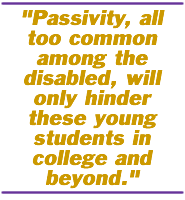 Developed by the College of Engineering and the Office of Computing and Communications in 1992, the program links disabled high school and college students with mentors and a wide range of technological resources in hopes of preparing them for college and future career opportunities. The program, which currently serves several hundred high school and college students, won a 1997 U.S. presidential award for excellence in science, mathematics and engineering mentoring. Also, last October the UW received a $3.5 million federal grant to establish a National Center on Accessible Information Technology (to be known as AccessIT), which will incorporate DO-IT's resources with the UW's Center for Technology and Disability Studies.
Program Director Sheryl Burgstahler and her staff teach students far more than academic skills. They attempt to reverse years of learned dependency, which Burgstahler says may be the most difficult lesson of all. "We constantly say, 'Don't be passive.' We encourage them to take charge of their lives," she says.
Passivity, all too common among the disabled, will only hinder these young students in college and beyond, she says, so DO-IT pushes them to be confident and articulate, yet respectful. She tells students, "Don't allow the attendants to do everything, especially things that you know you can do yourself."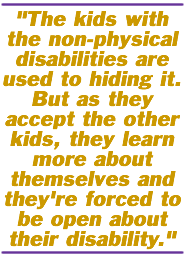 First funded by a National Science Foundation grant and more recently by the state of Washington and the U.S. Department of Education, the program is divided into three, yearlong phases that allow students to develop projects, work with mentors and eventually help out as DO-IT interns. Each July, 20 prospective college students arrive to take part in phase one of the program.
The 11-day summer camp includes workshops, field trips and social gatherings to prepare disabled students for college life. Campers live in a residence hall, eat lunch together on campus and even play Nintendo together.
The learning starts right away, as the students interact via the Internet before camp. As early as the first lunch, Burgstahler can see some students make important realizations.
"The kids with the non-physical disabilities are used to hiding it. They are sometimes overwhelmed when they meet everyone else that's here," she says, referring to the wide variety of disabilities represented at the camp. "But as they accept the other kids, they learn more about themselves and they're forced to be open about their disability."
The DO-IT camp isn't that different from other summer camps, as students are exposed to a new setting that prepares them for future success. The obvious difference, Burgstahler says, is that these kids are disabled, but the more subtle difference is that they must also overcome a social gap and the handicap of dependency.
Young disabled kids don't have many role models, Burgstahler says. "We're trying to make this generation of kids more successful." With its emphasis on technology and social strength, this award-winning program continues to help more and more kids DO-IT.—Mike Crane