HE WANTED TO BE STANDING IN THE sunshine with the other seniors, listening to his coach praise his five years on the Husky football team. He yearned to feel the butterflies as he prepared to meet the cross-state rivals in the final home game of the season. He wanted to be thinking about simple things: making a big hit, graduating in June or even his NFL prospects.
Instead he was 500 miles away, confined to a wheelchair, just a voice on a loudspeaker. But Curtis Williams was still part of the University of Washington football team.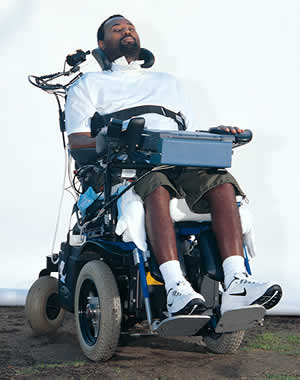 ---
Curtis Williams photographed in his brother's home in Clovis, California, on Jan. 31, 2002. Photo by Paul Mullins.
---
In a pre-game speech, Williams urged his teammates, especially the seniors, to go out and defend their home turf against a favored Cougar squad in the 2001 Apple Cup. He told them to play their best, not just for themselves, but for past, present and future Huskies.
"You could hear a pin drop when he spoke," said Football Coach Rick Neuheisel. "That was the first time he ever asked us to win one for him."
But, Neuheisel added, the Huskies' dominating 26-14 victory on Nov. 17 was much more than just a win for Curtis. That the injured 23-year-old football player could speak more than a few words without being interrupted by a ventilator—that Curtis could speak at all—was a huge victory. It's these small steps in overcoming terrible odds that make Curtis Williams a hero to every teammate, coach, family member, friend and fan who has tried to deal with what happened on Oct. 28, 2000, when the Husky defensive back became a quadriplegic.
It was a cold, soggy day in Palo Alto, Calif. The Huskies were entrenched in a close battle with Stanford in a key Pac-10 game. As he had all season, Williams played an excellent game at strong safety. He led the defense, tallying a game-high nine tackles through less than three quarters of play. Then, in a flash, one play, one tackle, forever changed Williams' life and the lives of those around him.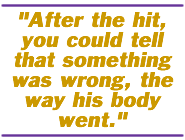 Husky Safety Greg Carothers, at the time a true freshman defensive back, remembers the play vividly. He was on the sideline, perpendicular to Williams' spot on the field. Instead of watching the ball, as he usually did, Carothers focused on Williams.
As the play developed, Williams identified a handoff and charged forward to plug a running lane, making a play he had made a hundred times before. Simultaneously the ball carrier, Stanford running back Kerry Carter, powered through the line of scrimmage toward Williams. The players collided at full speed, helmet-to-helmet. Both players fell down. Only Carter got up.
"After the hit, you could tell that something was wrong, the way his body went," Carothers said.
In the midst of the driving rain and the muddy Stanford Stadium turf, Williams lay motionless. Defensive tackle Larry Tripplett, then a junior, also watched from the sideline. He too felt that something was terribly wrong.
"Knowing Curtis, knowing how tough he is, you kind of expected him to get up," Tripplett said. "And when he didn't get up right away, I think everyone on the team started to get nervous."