Before the surgery, Williams was only able to speak in short, rough bursts when his ventilator pushed enough air into his lungs. Actor Christopher Reeve, who suffered a similar spinal injury, speaks in this manner. But Williams now spends all of his waking hours off of his bulky ventilator. The pacemaker allows him more mobility and improved speech. With the aid of a speech therapist, Williams has vastly improved his speaking ability.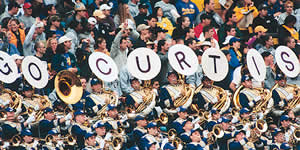 ---
Photo by Joanie Komura
---
Although Williams is confined to his electric wheelchair, which he controls with his chin, he still has friends over and goes out to movies. He loves to talk about football and he frequently receives calls and visits from former teammates and coaches.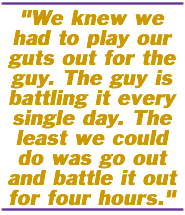 Williams saw his teammates in person for the first time since the accident at the January 2001 Rose Bowl in Pasadena. He was named as the team's fourth captain and watched from the press box as the Huskies saluted him by raising their helmets just before kickoff. The Huskies went on to beat Purdue 34-24, and some players dedicated the win to their fallen teammate. "We all knew we had to do one thing," Fullback Pat Conniff said. "We knew we had to play our guts out for the guy. The guy is battling it every single day. The least we could do was go out and battle it out for four hours."
Since then, Williams has attended the Huskies' game at UCLA last October and the Dawgs' Holiday Bowl game in San Diego. He hopes one day to return to Husky Stadium for a home game, but medical transportation costs make that extremely expensive.
Experiencing emotions ranging from anger to sadness to acceptance, Williams says he still has tough moments every day, but he has never given up. This spring he plans to finish some of the final 30 credits needed to complete his bachelor's degree from the UW in American ethnic studies. His speech improvement is vital, as he will use a voice-activated computer to take UW distance-learning courses.
"I figure now (my education) is most important, since I can't rely on my body anymore," he said.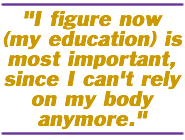 Williams realizes that his situation is likely permanent. His current focus is on doing whatever he can to make the most of his new life and to be a good father to Kymberly, who has been visiting more frequently. To better accommodate Curtis, the family recently moved to a new home 13 miles northeast of Fresno. The Curtis Williams Fund will be used to improve Williams' quality of life there, David said. The property will be renovated to include larger doors for Williams to pass through in his wheelchair and he will now have his own room.
"He can still be a young kid," David said. "He'll have his own space and some privacy."
David also plans to set up an automated workout room for Curtis. In the event that medical technology can someday repair his spine, Williams must maintain muscle tone to meet the physical demands of walking. Due to lack of use, his muscles have significantly deteriorated, but automated workout machines would force his muscles to move and stay relatively toned, David said. Curtis' once-rippling muscles on his 5-foot-10 frame are gone, but Williams' impressive determination keeps him constantly pushing forward.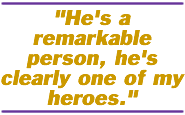 Despite all that football has taken away from him, Williams is not bitter. In fact, his goal is to stay involved in the sport any way he can, either by coaching high school kids or scouting—possibly for the Huskies. If given the choice, the one-time running back would coach defense.
"It's where I ended," he said.
Neuheisel, normally very tongue-in-cheek with the media, becomes quite serious when he talks about Curtis. He frequently keeps in touch with his former star, and he often looks at the picture of Williams that sits in his office as a reminder of his enduring strength.
"He's a remarkable person," Neuheisel said. "The way he presents himself is stirring. "As difficult as this has been—and I can only imagine how truly difficult it has been—he never lets on. He's clearly one of my heroes."—Mike Crane was an intern for Columns when he wrote this article. He will graduate this June from the UW School of Communications.
For more information or to make a donation, write to The Curtis Williams Fund c/o University of Washington, 1200 Fifth Ave., Suite 500, Seattle, WA 98101; or visit the UW football page on GoHuskies.com.