They even played the same position (running back) in high school and David watched his little brother chase many of his rushing records. With a 14-year gap in ages, he became more like a father to Curtis than a brother. Under his guidance, Curtis stayed on track and completed an excellent senior season, eventually accepting a football scholarship to the UW.
Under Coach Jim Lambright, Williams saw limited playing time, buried on the running back depth chart. His first three seasons (including one redshirt) were frustrating, he said. But everything changed when Rick Neuheisel and his staff took over in 1999. They immediately recognized Williams' ability—they had tried to recruit him at Colorado. However, the staff didn't see him making the most impact at running back so they asked him to switch to defense as a free safety.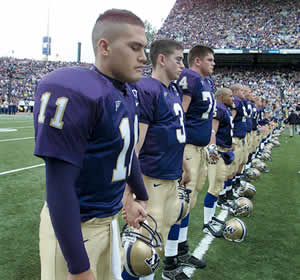 ---
Quarterback Marques Tuiasosopo (11) holds hands with teammates before the 2000 UW-Arizona game as they pray for injured teammate Curtis Williams. Photo by Steve Ringman, copyright 2000 Seattle Times.
---
Curtis just wanted to play, so he jumped at the chance. According to Bobby Hauck, the UW's safeties and special teams coach, Williams learned the position quickly. Playing first as a free safety, he became known as a big hitter, always lurking and ready to paste any opposing players who ventured into his sights.
Williams also excelled on special teams and soon became a defensive leader. He finished the 1999 season with 69 tackles and a new outlook on football. The California native was emerging as one of the Pac-10's best defensive backs, a superb athlete realizing his physical potential.
But all of that ended on a rain-soaked field in Palo Alto. Following his initial treatment at the Stanford Medical Center, Williams spent four months in a rehabilitation unit at the Santa Clara (Calif.) Valley Medical Center. As soon as he was ready to be discharged, he left to live with his brother David and family.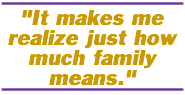 David took an extended leave from his job as a full-time manager at a medical waste facility to learn how to take care of Curtis. The hospital staff taught him how to adjust and clean the ventilator, how to treat his skin, how to clean Curtis' bowels and how to move him safely. Many of Curtis' family members, who have always made family their priority, helped to take care of him. Curtis says he gained a new appreciation for their love.
"It makes me realize just how much family means," he said.
For several months the family was responsible for taking care of Curtis 96 hours each week due to an insurance problem. Williams is covered under the NCAA's catastrophic injury insurance policy. The policy, which provides up to $20 million in lifetime benefits, originally had a $100,000 limit for in-home care. A change last August bumped that up to $250,000. (His disability insurance also provides child support for Kymberly, now 7.) Now Williams receives 120 hours of skilled in-home care each week, easing the load on the family.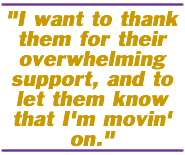 Williams also appreciates his other family: the multitude of Husky fans and friends from around the country who have sent him thousands of notes of encouragement. He still receives letters every week.
"I want to thank them for their overwhelming support," he said. "And to let them know that I'm movin' on."
More than 2,000 fans have contributed to the Curtis Williams Fund, set up in November 2000 to cover the substantial costs outside of insurance. The fund has garnered close to $400,000. Holding a pen in his teeth, Williams signs thank-you notes for donors.
Last June he underwent unconventional surgery to wean him from the ventilator that had helped him breathe since the injury. Doctors implanted a phrenic nerve pacemaker under the skin near Williams' collarbone. The pacemaker electrically stimulates the nerve, which stimulates Williams' diaphragm, a muscle that aids breathing.