"We felt a significant concern before we even reached Curtis on the field," said Husky Trainer Dave Burton, the first to attend to Williams on the field that day.
As Burton approached, his worst fears were confirmed: Williams was unable to speak and had trouble breathing. Burton tried to comfort and reassure him.
"He was conscious but he was visibly frightened," Burton said. "You could see the expression in his face."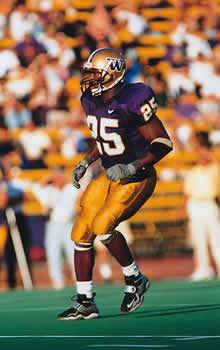 ---
Curtis Williams, "C-Dub", played safety for the Huskies in 1999 and 2000. Photo by Ethan Janson.
---
Burton continued talking to Williams as an assistant held his head in place. The Stanford response crew called an ambulance, and trainers hooked Williams up to an emergency-breathing device. What seemed like an eternity actually lasted only eight minutes, Burton said, and the Stanford response crew's quick action saved Williams' life as he was rushed to the Stanford University Medical Center. His condition stabilized and doctors placed him on a ventilator.
Williams had sustained damage to the first and second vertebrae at the base of his skull—the most serious non-lethal spinal injury one can suffer—leaving him paralyzed from the neck down. Not only was his dream of playing professional football over; his life was in jeopardy.
It wasn't supposed to end like this. The Fresno, Calif., native, nicknamed "C-Dub," was becoming a great football player. Bill Stewart, his high school coach, always knew he had great potential. "He was extremely mature for his age," Stewart said. "I was very impressed by his high confidence level. He had a good head on his shoulders."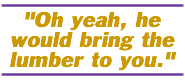 Off the field, Williams was very humble and a little quiet, Stewart said, but on the field "he played loud." At Fresno's Bullard High School, Williams displayed his considerable talents as a running back and a cornerback. He was one of the most highly touted running backs on the West Coast, having rushed for more than 1,400 yards and 31 touchdowns as a senior. Most colleges wanted him as a runner but Stewart recalled his prowess on the other side of the ball.
"Oh yeah, he would bring the lumber to you," Stewart said, describing the 5-foot-10, 200-pound Williams' hitting ability.
In high school, Williams appeared to be headed for success on the field, but he had made some mistakes off the field. At age 16 Williams fathered a child, Kymberly, with his then-girlfriend Michelle. He eventually married Michelle but the couple later separated. Around that time, Donnie Williams, Curtis' father, suffered a heart attack, so older brother David Williams stepped in to look out for his brother. Curtis lived with David and his family in Fresno for his final two years in high school.
The two brothers always had an extremely close bond.
"He was my little buddy," David said, recalling his football days when he brought game balls home to young Curtis.